2018 was supposed to be "our year" large expectation was placed on a very talented team. Who was knocked out of 2017 elimination finals by west coast after a controversial high free kick was given. After the game chairman David Koch challenged the staff for playing a young squad, Ken Hinkley signed an extension at the end of 2017.
The Offseason Port Adelaide brought the former number one pick Jack Watts from Melbourne, Tom Rockliff from Brisbane and speedster Steven Motlop from Geelong. Handy pickups included Lindsey Thomas and Jack Trengrove. Out the door went young talent Jarmen Impey and second ruck and makeshift forward Jackson Trengrove.
Port Adelaide 2018 season can be considered a failure even with two rounds to go, sitting 8th only on percentage, Port Adelaide boasts All- Australian talent across all three lines, Backline, Midfield and Forward line. With names like Tom Jonas, Paddy Ryder, Chad Wingard and Robbie Grey. However with key personal missing chunks of the season. Tom Jonas (knee) Paddy Ryder ( Achilles) Hamish Hartlett (ACL) and now with key forward Charlie Dixson succumbing to season-ending injury, Port Adelaide 2018 season can be summed up in two minutes, in two games.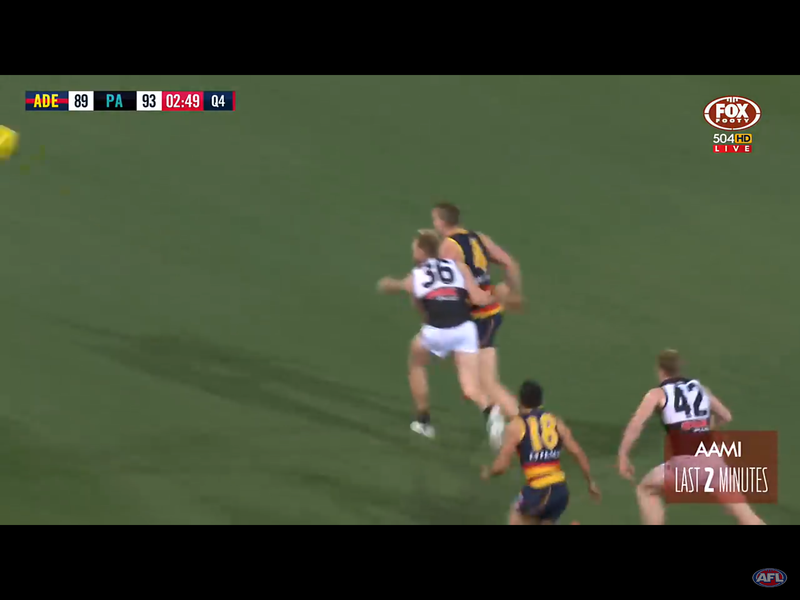 The breakdown of the 2018 season can be made up, in two different plays. The first was Round 20 against the crows, in the last minutes, Jack Hombsch on the bigger body Josh Jenkins who was outmatched against Josh Jenkins for most of the game.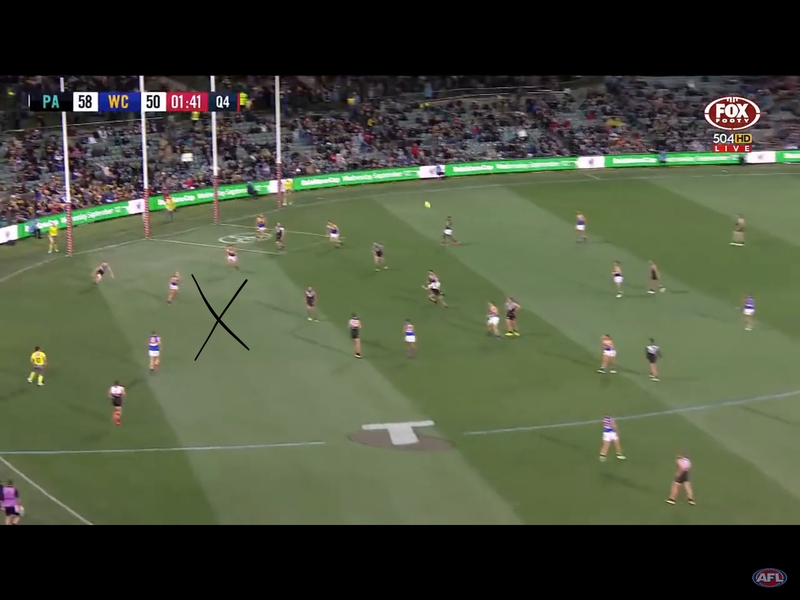 The snapshot of Port Adelaide season, with a 1.41 left in the game, Chad Wingard marked 60 meters out and kicked sideways to Tom Clurey who had options out wide or kicked back to Chad Wingard. Instead, from the image you can see, Tom Clurey kicks long into the forward line, not near the boundary. But to Robbie Grey, who was outnumbered 3 to 1. The X is where the ball is marked by Tom Barrass.