Five goals in one match . An incredible achievement by Michael Frey. While the Swiss himself remained reasonably cool afterwards, the privileged witnesses were impressed. An overview of some reactions to Michael Frey's five-fold.

Michael Frey: "Lucky with the supply"
Michael Frey took home the match ball after his brilliant performance. "Of course I will," he beamed in front of the Eleven Sports cameras afterwards. "It's a very special day for me. I've already scored some hat-tricks, but it's the first time I've made five. I was lucky with the supply, it was really good, I often had to put my foot against it.
Viktor Fischer: "Amazing to see someone score five goals"
Besides the unavoidable Michael Frey, Viktor Fischer was also one of the stars at Antwerp. The Dane looked back on the match with satisfaction in front of the cameras of Eleven Sports. "This is a very important win. We are very happy to have Frey today. Everything he touched just went in today. If it's not Ronaldo or Lewandowski, it's always amazing to see someone score five goals. I told him he can't sleep with his girlfriend today because otherwise he'll have twins," Fischer joked.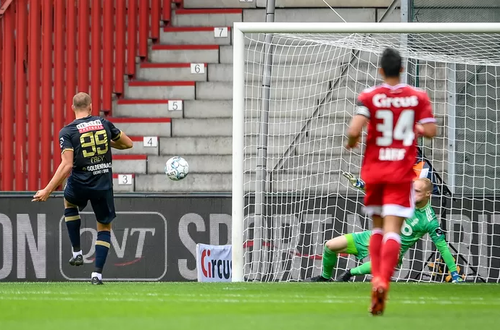 Jelle Bataille: "Everything Frey touched flew in"
"After our 0 out of 6, we now come here to win 2-5...an ideal scenario", said Jelle Bataille at Eleven. "It has been a hard week. The coach put the string on it, because it couldn't go on like this. Antwerp has ambitions to take the title, but we were at the bottom. Fortunately, we were now able to show what we are worth. Certainly Frey, yes. (blows) He shoots at target five times and scores five - everything flew in. unbelievable.
Arnaud Bodart: "Never nice to get five"
Arnaud Bodart was the unlucky goalkeeper who got around Frey's five goals. "It's never nice to get five, but that's part of football unfortunately. Sometimes you have such days." Standard's goalkeeper was particularly critical of his own performance: "We started badly, without being aggressive. As a result, they find the free man too easily. That made all the difference. We have to keep our heads high now."