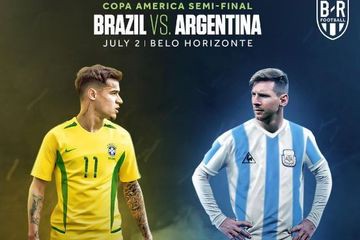 The SAMBA Brazil team has been confirmed to meet their arch-rivals Argentina in the 2019 Copa America Semifinal Round. The prestigious match to be played at the Belo Horizonte City Mineirao Stadium on Wednesday (03/07/2019) is a very crucial match for the two Latin American giants that is.
Brazil do not want to repeat the darkest memory in their Football history at Mineiro Stadium. Yes, at the Stadium, the Samba Team were beaten by Germany with a score of 7-1 in the 2014 World Cup Semifinals. All Brazilians certainly did not want Argentina to do the same as Germany did at that time. And now everything depends on the retainer of the Brazilian national team, can they make Lionel Messi and his friends lift the suitcase from the 2019 Copa America? Or on the contrary, Brazil must be a spectator in the Final played in their home.
Brazilian center-back Thiago Silva said the hosts concentrated on positive thoughts ahead of the Copa America semi-final against Argentina, they realized that the Stadium was one of their worst experiences on the football pitch. For him, the devil who was in the Stadium we had to defeat first before fighting Argentina.
Brazil has proven capable of overcoming the devil who inhabited the Mineirao by beating Argentina 3-0 in World Cup qualifiers at the stadium in 2016, but the semi-finals will be the first for them to return to the horror stage in a major soccer competition.
If Brazil does not focus on the positive aspects when they fight Argentina at the Mineirao Stadium, then that history will certainly be repeated.
The fierce action of the two big teams will be very interesting to witness because the Argentine team is still inhabited by the best player in the world, Lionel Messi. Although La Pulga still hasn't shown its best ability during the 2019 Copa America tournament, Messi is still Messi. He was able to show magic when needed.
Brazilian players must be aware that they face Argentina who have the same technical and tactic abilities as they are
Will Argentina make Brazil again experience a bad experience at the Moneiro Stadium in the 2019 Copa America Semifinal?
Welcome to the Super El Clasio game, bolamania.
Greetings Sports.