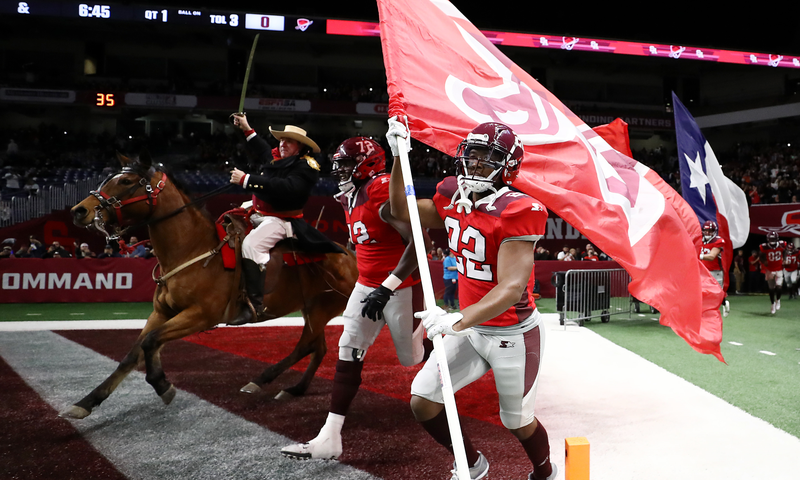 Defense-heavy San Antonio Commanders cruised past San Diego Fleet, 15-6, to record its first ever victory at the inaugural season of the American Alliance of Football (AAF), last Saturday, February 9.
The San Antonio secondary stepped up big time in their first ever game for the newly-minted AAF after pushing San Diego to three turnovers, six sacks, and a forced fumble to stay atop the Western Conference rankings with a 1-0 win-loss card.
Outside line backer Shaan Washington's two sacks, two solo tackles, and forced fumble led the Commanders' defense in electrifying the crowd at the historic Alamodome, in San Antonio, Texas.
Kicker Nick Rose, who played for the Los Angeles Chargers in the Divisional Round against the New England Patriots earlier this year, scored the first ever points for the Mike Riley-mentored squad after sinking in a 29-yard field goal in the second quarter before running back Kenneth Farrow II rushed for a four-yard score to tally the first ever touchdown in Commanders' history.
"The atmosphere here in the Alamodome and in Orlando was absolutely electric. Both cities were hungry for more football, and that was evident by the love and support the fans showed tonight. There are a number of things we can and we will improve on, but tonight exceeded my expectations and we'll only grow from here," The Alliance co-founder and CEO Charlie Ebersol said.
"We wanted to put a quality product on the field, and I'm proud of what was on display this weekend. We saw big plays on both sides of the ball and I loved the intensity the players showed. There are areas that certainly need to be improved, but that's why we have high caliber coaches on the sidelines, to help our players learn, grow and improve on and off the field," Ebersol's co-founder and Pro Football Hall of Famer Bill Polian said, on the other hand.
Commanders' Corner: The Offense
When former West Texas A&M quarterback Dustin Vaughan was protected by San Antonio at the 'Protect or Pick' QB Draft last November, a lot of speculations regarding the expectations of him getting the job done as the starting quarterback in Week 1 against San Diego were everywhere.
Fair enough, his 123 touchdown passes in college would make him an easy choice.
But, on Saturday, Commanders' coach Riley pulled off a surprise after banking on former Toledo Rockets' quarterback Logan Woodside, who completed 18 of his 36 passes for 255 yards against two interceptions, enough to make him the second best passing yards leader after Week 1.
San Antonio's running game, however, rushed for a dismal 3.7 yards per carry, highlighted by a below average performance from the trio of Farrow, Aaron Green, and David Cobb--all of whom played in the National Football League (NFL).
Mekale McKay, Alonzo Moore, and Greg Ward Jr. led the San Antonio receiving corpse after grabbing a combined 223 yards for a total of 13 receptions.
Commanders' Corner: The Defense
The Commanders' defense went exactly the opposite of its offense as San Antonio made San Digeo settle for field goals in the entire match.
Last season's Philadelphia Eagles cornerback De'Vante Bausby and defensive back Orion Stewart helped Washington in anchoring San Antonio's defense which led the league after Week 1.
Bausby and Stewart had one interception each while combining for seven total tackles in an aggressive secondary cast which limited the Fleet's yardage production to a sub-par total of 295 yards and just 3-for-13 in third down conversions.
San Antonio defensive coordinator Jim Grobe did a very good job justifying the Commanders' defense in Week 1, proving their might with six NFL-experienced players against the San Diego's offense-savvy head coach Mike Martz, who led the 1999 St. Louis Rams in the Super Bowl with their 'Greatest Show on Turf' moniker.
Commanders' Corner: The Special Teams
Rose and punter Joseph Zema led the Commanders' special teams' as expected as they both shone bright under the tutelage of coach Jeff McInerney in Week 1.
After playing for the Chargers, Rose headed back to San Antonio and went three-for-three in his first ever kicking assignment for the Commanders, highlighted by scoring the first points in San Antonio's history, while Zema punted thrice for an average of 43.3 yards.
UP NEXT: The Commanders' defense will be challenged for the second straight time as they face the Orlando Apollos' (1-0) league-leading offense at the Alamodome--live at the CBS Sports Network--before heading on in a four-week road trip.
Orlando line backer Terence Gavin's defensive player of the week performance last Saturday led the Apollos to a 40-6 victory over the Atlanta Legends after tallying a team-high 11 tackles and two interceptions, including a 51-yard pick-six.
Follow the writer on Twitter: @KristoffBellen.