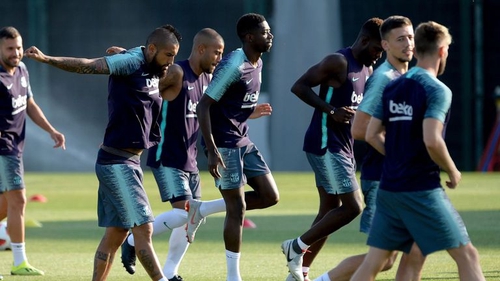 Sevilla could take legal action should Barcelona include more than three non-EU players in their Spanish Super Cup squad for Sunday's game in Tangier, Morocco, live on Sky Sports.
The Spanish football federation (RFEF) announced that teams could field an unlimited number of players without EU citizenship, a change in the rules for La Liga, which limits teams to three non-EU players in a matchday squad.
Reports suggest that Sevilla could even withdraw from the game in protest.
In a series of firsts for the Super Cup, the game will be played outside Spain, in Tangier, just across the Strait of Gibraltar.
Barcelona have taken four non-EU players to Morocco, Chilean Arturo Vidal and the Brazilian trio of Malcom, Marlon and Arthur.
Club captain Lionel Messi and forward Luis Suarez already have EU citizenship, while Brazilian Philippe Coutinho is thought to have obtained a Portuguese passport through his wife, Aine.
Also See:
Barca's Coutinho handed No 7 shirt
Messi named Barcelona captain
Sevilla v Barcelona preview
Pique retires from Spain duty