Inter wins in Derby, Italy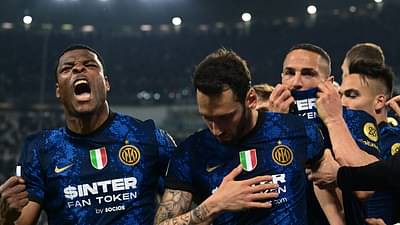 The name of the match that literally divided Italy into two parts is also appropriate, 'Derby the Italia' - meaning Derby of Italy. That means the derby divides the whole of Italy. That was the derby today. Inter Milan came to play for Juventus. However, the old women of Turin could not win in their own field. Juventus have added to the danger of losing to Inter. The only goal of the match was scored by Hakan Chalhanolu.
It is said that before this match, the whole of Italy was divided into two parts.
Niccolo Barella, Chalhanolu and Dumfries are the three attackers on the left side of the Juventus defense. Dutch right wingback Denzel Dumfries was dropped in the box by Juventus' Spanish striker Alvaro Morata, along with left-back Alex Sandro. Dumfries fell to the box on his knees. However, there was a lot of discussion and criticism on social media about whether the penalty was actually valid or not. Chalhanolu led the team with a goal from there.
the Turkish midfielder scored from the penalty spot. Later, Juventus could not return to equality. Juventus dominated the field in the first half. But forgetting for a moment, everything turned upside down for Juventus.