Traugh is Tigers' guardian angel this season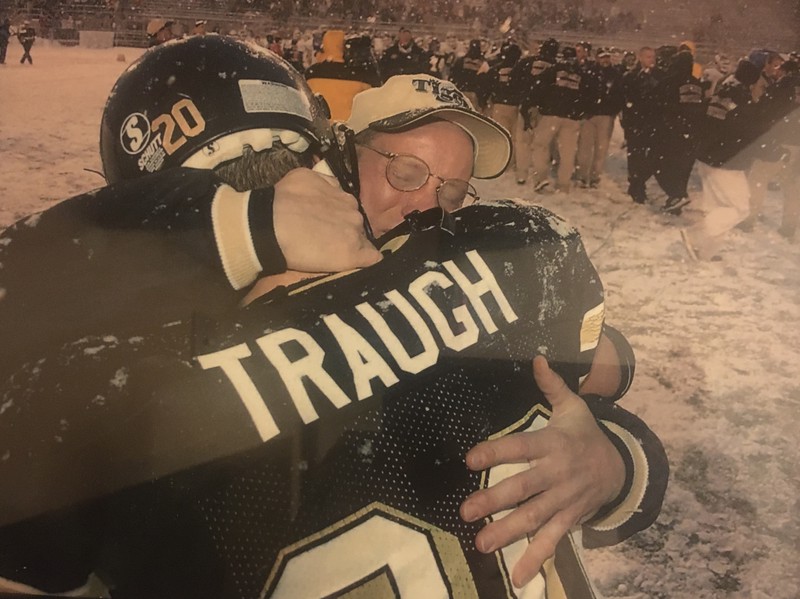 By MARC MALKOSKIE
Press Enterprise Writer
FRANKLIN TWP. —Southern Columbia's football team has had a guardian angel watching over them this season.
Ever since the passing of 18-year assistant coach Donald Traugh a month before the preseason began, Southern has performed as if he's still helping coach the team.
While Traugh helped direct the running backs for a number of years, his expertise was predominantly utilized in coaching the defense with 40-year assistant/defensive coordinator Andy Mills, serving as Mills' spotter on game days from the press box.
Considering this season has been dedicated to Traugh, it's more than fitting that the defense he helped build is proving to be the best in program history. The Tigers have surrendered an average of five points per game, and their defensive starters have only allowed only four touchdowns this year.
"There's no question," Mills responded when asked if Traugh's presence from above has played a role in his defense's success. "Especially over in the year when we were still getting over losing him, I think the Hammond game was a really good statement as far as what he was trying to instill in the kids. Then we went on a streak of consecutive shutouts and our kids really started to believe.
"He was quite an inspiration to them. He was very detail-oriented and was the type of guy who never left any stone unturned. He was very good on technique and all the little things. I think a lot of what he taught them has obviously carried over into this year."
A 1970 graduate of Southern, Traugh coached at Bloomsburg High School from 1978-81 and served as an assistant at Susquehanna University from 1982-85 before taking a 16-year hiatus to raise his two sons alongside his wife, Brenda.
He began coaching again when his son, Brandon, started his freshman year at Southern in 2000. Together, the father-son combination won a pair of state titles in 2002 and '03.
Brandon Traugh then joined Southern's coaching staff around '08, and the father-son duo went on to claim three more state championships as coaches.
Through the coaching bond they created, Brandon Traugh began to inherit the personality traits and mannerisms that made his father so well respected.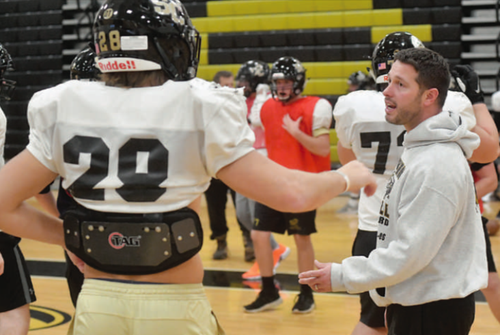 "One thing that I really try to do is pay attention to detail because my dad always would when kids would go through the motions wrong and they weren't really worried about correcting it," Brandon Traugh said. "I try to strive myself on that and have tried to do it even more this year just because that's something that he always focused on. He didn't see any reason in why you would practice something wrong and continue to do it the wrong way. His thing was if you do it right the first or second time, then we're having good, meaningful practice.
"You could be equal with another team, but when your guys start paying closer attention to those little minute details, that's what gives you the edge on certain plays or over the course of the whole game. He had a lot of pride in what he did, which is something the whole program is built on. He helped instill that in me throughout my childhood, playing career and then through coaching together."
Southern coach Jim Roth has noticed the similarities between father and son.
"I think (Donald) has played a really significant role in molding Brandon into the man he is today," said Southern head coach Jim Roth, who's also Brandon Traugh's father-in-law. "They have a lot of the same character traits as coaches. Even as people, their personalities are very similar. Don was always old-school about doing things the right way. Brandon is a lot younger so he's more with the new generation, but still, when it comes to kids being respectful, getting good grades in school and doing the right things, that's a big part of his emphasis as a coach, and Don was always that way. They're both really big on the fundamentals and doing things right on the field, and that's another carryover from one to the other."
Before Southern's home- opener against Mount Carmel, the crowd paid tribute to the late coach. All of the Tigers' coaches and many fans wore shirts in memory of him with his favorite saying on the back: "It's expected."
Mills became great friends with Donald Traugh over the years they spent coaching Southern's defense together, and has worn that shirt every single game since as a special tribute to his former peer.
"Before I put more layers of clothes on, I have the T-shirt on top, so even though I don't say anything to the kids, the shirt with his favorite saying, 'It's expected' is right on the back and they're reminded every game of what he meant to this program," Mills said. "Over the weekends, I'd compile a scouting report on whoever we were playing the following Friday. With Don's family obligations, he usually wouldn't get to sit down until mid-week to watch the same thing I watched.
"So, he'd be able to look at what I saw and then offer his own suggestions as to what he saw. He'd do more of the down-and-distance tendencies, where I'd do more of the formation tendencies. He always had good suggestions during games from up in the booth on things we couldn't always see from field-level."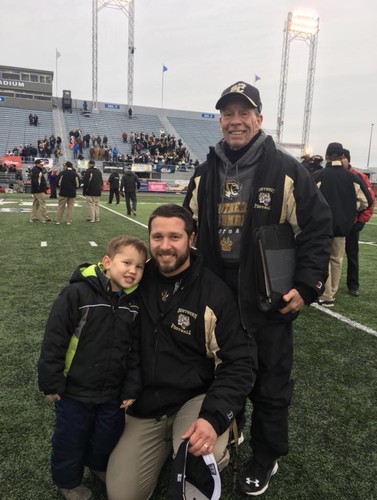 Traugh was a monumental figure in the community as well, serving as a member of Catawissa Hose Co. No. 1 for 50 years. He was the chief of the department for 31 years up until his passing. Yet, not many people, if any, have felt the magnitude of his absence here on earth more than his son, Brandon.
"One of the toughest things is we'd always gather and just talk a little bit about things on the field after games," Brandon Traugh said. "As the alma mater would get done playing, we'd walk off the field and up the hill together at home games or back to the locker rooms at visiting stadiums which was always our way to throw our thoughts out there and bond and that's not there anymore. It's also been difficult on me because my sons were starting to play a role on that a come on the field afterwards and that's one of the most challenging things right now.
"It's been difficult going through the season without him here. It's been very different to say the least. We used to have little conversations here and there throughout the weeks about what we saw on film and different things that in the past you always took for granted. Now, I'm really missing those opportunities. I also miss the communication we used to have during games. With him being on defense and me being on offense, we would see things from different perspectives and it's not there anymore."
Marc Malkoskie can be reached at marc.malkoskie@pressenterprise.net. Follow him on Twitter at @mmalkoskie.
[Editor's note — A memory of Donald Traugh told by Adam Roberts: "I remember talking to (former Southern assistant) Curt Stellfox about when Traugh broke down in the booth as his son scored his first state championship game touchdown late in the game. Stellfox tried (teasing him), but Traugh responded, 'That's my f***** boy, Curt,' as he wiped tears from his eyes."]