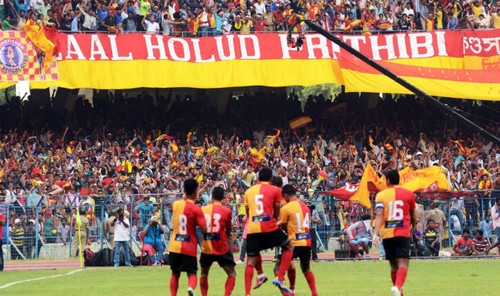 Are you East Bengal or Mohanbagan?
This is a very familiar question to every football fan in Kolkata. Cricket crazy Indians are always behind cricket, but in Kolkata civic life, football is a part of cricket as well.
Although there is no achievement to boast about the strengths of Indian subcontinent in the world of football, Indians, especially Kolkata fans, can boast of their famous two football clubs East Bengal and Mohun Bagan. These two football clubs are one of the oldest football clubs in the subcontinent.
Founded in 1889, Mohabbagan and soccer fans in the football match between East Bengal established in 1920 or the Day Salt Lake Stadium of Kolkata Darby are crowded by football fans. There are many history, many records and many controversial events around the match of these two football clubs of Calcutta. Of these, today's arrangements are organized with 11 amazing information.
1. First meeting
Mohammedan and East Bengal, both of Kolkata's antiquated football club, faced the first time in 1925. In the first match, Nepal Chakraborty lost to East Bengal by 1-0 goals by Mohanbagan.
Through the historical goal of Nepal Chakraborty has taken place on the pages of history. First match between the two teams was the captain of the winning team, Dhaka's son Mana Dutta.
2. 100th Derby
The 100th match between Mohunbagan and East Bengal was held on December 16, 1967. That was the final match of the Rovers Cup. In that match, East Bengal, losing 2-0 to Mohunbagan. Then in April 1993, the 200th Calcutta Derby was held in the Emirates Cup final. In this match, East Bengal defeated East Bengal by 6-5 goals in the tiebreaker near Mohanbagan.
Then on 8 January 2012, the two teams met in the Kolkata Football League for the 300th match. Mohun Bagan won the match.
3. Win the maximum distance
East Bengal has won the biggest difference in the Calcutta Derby. On 30 December 1975, they completely destroyed Mohanbagan 5-0. Shyam Thapa scored a penalty in the 11th minute for the red yellowish. But then again he got a chance to score from the penalty, but he failed to score from the second penalty. In addition to Shyam Thapa, Bengal scored more goals for Surjeet Sengupta and Ranjit Mukherjee.
East Bengal captain Ashok Banerjee was the captain of the match. At that time, the fight between the two parties was so important that within a few days of Kajal Dalí's death in East Bengal, he came out to play in the match.