Hello friends, I brought good news for the Argentine fans today, which will fill the minds of the Argentine fans with happiness.
Argentina are having the best time in their history in the 21st century. They have won two Copa Amrica titles in the last 11 months. They have a chance to win the title in the final. It's been a year but they have a great chance to break the record. Messi has the most unbeaten record in the history of football. Someone is going to threaten Messi's Argentina.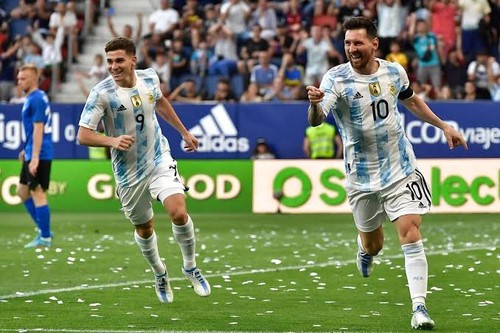 Messi knows that now they are rising like a phoenix, there is no one to touch them, no one to stop them. When it comes to what Argentina lost in the Copa Am 2019rica in 2019 against Brazil, Alves has been on the field for another 33 times and they have not lost a match there.
They have won 32, drawn 32 times, lost the remaining 11 matches, then faced Brazil three more times where two wins improved, including winning the Copa Am ফrica final. They are unbeaten in 33 matches. Above all, the four teams Brazil and Chariali set an unbeaten record in international football matches. They were unbeaten for three years in a row from 1993 to 1995. Brazil won the 1994 World Cup in Brazil. Spain set a 35-match unbeaten record until 2019. Their defeat against the United States in the Confederations Cup proved incredible. They won the World Cup the following year and the Euros in 2012. Given they were unfamiliar with 35 matches in a row, the highest in the history of African football Bochch
Italy's unbeaten run begins today after Italy failed to qualify for the 2018 World Cup. The current 37-match unbeaten streak under the current sugar of that unbeaten run ended in Italy, with the Championship ending. They were able to reach the top of the list, but what they can do is to break the record of Italy, maybe Argentina can play in three more matches before the World Cup, although it is not certain yet.
Thanks for reading.