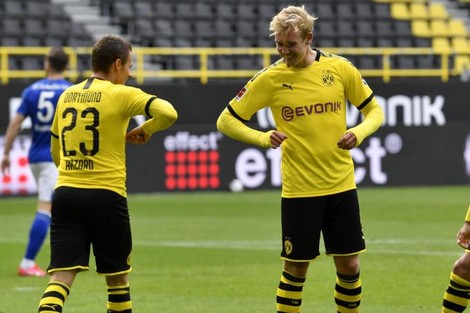 The Borussia Dortmund team started the return of the German Football League competitions with a big victory over its host Schalke 4-0 in the derby rover match that brought the two teams today, Saturday, within the twenty-sixth stage of the competition.
After a pause that started in mid-March, due to the emerging epidemic of the Corona virus, the competitions of the First and Second Division competitions in Germany resumed, as of today, Saturday, by holding matches without an audience according to strict health and preventive standards and rules.
At Signal Iduna Park, which has more than 80,000 fans but was empty of fans today, Norwegian star Erling Hall opened the scoring for Borussia Dortmund in the 29th minute; Then Portugal's Rafael Guerrero added the team's second goal in the 45th minute.
In the second half, the Belgian Thurgan Hazard added the third goal to Dortmund, in the 48th minute, then Guerrero scored his second goal and the fourth for the team in the 63rd minute.
According to the health and preventive rules and instructions, players committed not to shake hands or hug during the celebration of registration as well as during the substitutions, which were allowed to increase their number to five substitutions instead of three, and the substitutes were committed to wearing masks and spacing when sitting on the bench.
Borussia Dortmund was the best team in the two rounds of the game in terms of possession and offensive pressure, while Schalke did not provide enough offensive performance to shake the net away from home, and made a single dangerous opportunity came during the first half.
Borussia Dortmund raised its score to 54 points in second place, one point behind leaders Bayern Munich, who is visiting Union Berlin on Sunday, while Schalke Schalke, who missed the taste of victories, for the ninth consecutive game in the league, at 37 points.