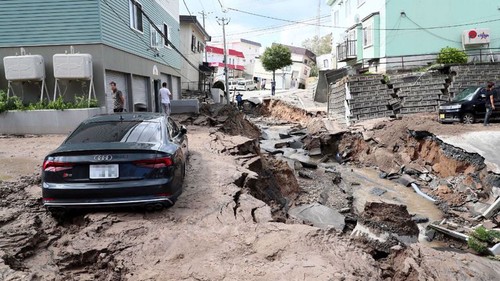 Japan have cancelled Friday's international friendly with Chile scheduled to be played at the Sapporo Dome after a powerful earthquake struck the northern island of Hokkaido on Thursday, the country's soccer federation said.
The Japan Football Federation (JFA) said they had taken the decision after considering the magnitude of damage that included widespread power outages and transportation disruptions, as well as spectator safety.
"Due to the effects of the earthquake, Japan Football Association has decided to cancel the Kirin Challenge Cup 2018 match between Samurai Blue and Chile national team," JFA said in a statement on Thursday.
The 6.7-magnitude, pre-dawn quake has paralysed Hokkaido, killing at least seven people, triggering landslides and knocking out power to its 5.3 million residents.
"Our thoughts and prayers are with all those affected in Hokkaido," JFA president Tashima Kohzo added.
The match would have been new head coach Hajime Moriyasu first in charge of the team. Japan are scheduled to play Costa Rica on September 11 in Osaka