It was joy galore for Aston Villa after the Championship play-off final as they beat Derby 2 - 1 and this made them be promoted to the Premier League. It was a huge success on their part and they were very joyous.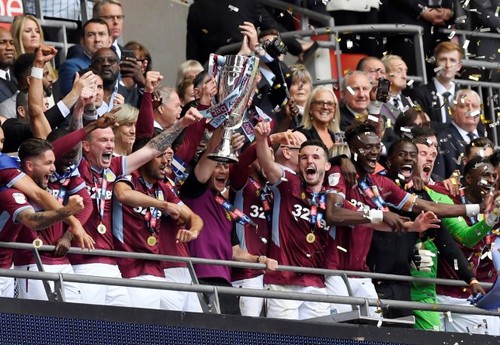 The game ended with Anwar El Ghazi who headed home with the inviting cross from Elmohamady and this gave Aston Villa the lead before the end of the first half. The second goal entered 10 minutes into the second half by John McGinn at Wembley stadium. It was a bad day for Frank Lampard as he tried to spark back by introducing Marriott Jack who is the semi-final hero and he netted the ball from Jed Steer's corner but I think it was too late.
After a goal from Derby, Aston Villa had to manage there leading till the end of the match in other to secure the position into the Premier League which they did. It was a narrow lead that earns them the promotion that worth £170 million and this made them join Sheffield United and Norwich come next season.
Recalled that Aston Villa relegated in 2015/16 Premier League and Fulham denied them of there come back after their 1 - 0 lost in the Championship play-off final. Now, with the promotion of Aston Villa, Derby for the 12th consecutive year will be playing Championship football for the next season.
It was a great success for Aston Villa as there Head Coach Smith gives kudos to his players and praise their potential. He mentioned how he is unable to explain how happy he is. Congratulation to Aston Villa for there promotion,.