It was a moment of joy for Manchester City again after they defeated Watford in FA Final with 6 -0 as another brilliant record for the blue. This was a great result with a record of Sterling hat trick. David Silva opened the goals for the blues and it all ended well with them. Before the game, Manchester City captain Vincent Kompany was questioned several times to release his future plan since the season is all over, but the 33 years old players refuse to release answer of his future plan.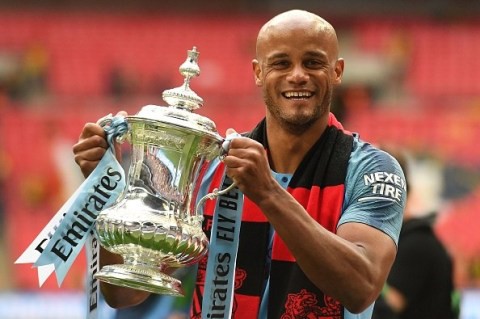 Moreover, Sunday 19th May 2019, Kompany writes an open letter to his fan to declare his future plan. He revealed that his end has finally come. What a record!
As a team captain, the Belgian has won 11th trophies. Community Shield Winners!, Back 2 back League Cup Winners!, Back 2 back Champions of England!, and FA Cup Winners, what an incredible 2018/2019 season for the blues.
Kompany exit does not feel real to him, but it has to happen somehow, he thanked all his teammates, fans and the entire club for their support since he moved to Manchester City and indeed he contributed to the success of this great team with great achievement.
According to him, He said, he'll never forget Man City supporters as they will always be in his mind and ever loyal to them all. He also salutes the leadership of Khaldoon Al Mubarak as a good human being.
Despite the fact that Kompany is out of contract by July, Man City already prepares to hand him a one year deal, but the Belgian believes this is the right time for him to leave after 11 years of his engagement.
Who will take over from Vincent Kompany as the team captain?
The season ended well for Man City and also Vincent <gwmw class="ginger-module-highlighter-mistake-type-1" id="gwmw-15582721819569961925822">Kompany</gwmw> finish his career well with Mancity. The Belgian is still certain to lead his Nation Team as the capital to 2020 world cup.