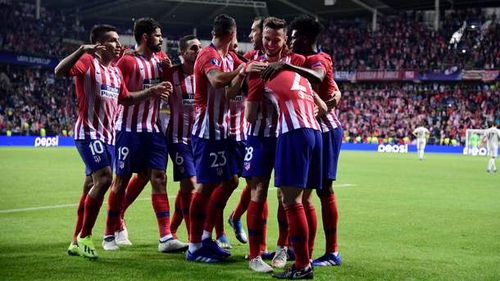 Madrid "Atletico" beat Madrid "Real" in the match for the UEFA Super Cup, which was held on August 15 in Tallinn, Estonia. For the first time in the history of the tournament, teams from the same city fought for the trophy. Recall, "Real" is the winner of the Champions League, and "Atletico" - the League of Europe. "Mattress" for the third time in its history became the owners of the UEFA Super Cup.
Teams started the fight without a traditional swing and already on the 49th second after his start, Diego Costa opened the scoring - the forward of "Atletico" got the ball on the corner of the penalty, threw it forward and from an acute angle struck past Keyilor Navas in the far nine. It was the fastest ball in the history of the UEFA Super Cup.
"Real" did not depart from the passed ball for a long time, but at first the threat to the gates of "Atletico" was mostly only from the left defender Marcelo. By the middle of the first half, Gareth Bale played and already with his transfer the score on the 27th minute equalized Karim Benzema. It was the 57th ball of the Frenchman in European competition.
The second half began with the attacks, "Atletico", but failed to score them, and "Real" - after filing a corner, Huangfran in the fight with Benzema played up his hand and brought to his own gate penalties. 11-meter shock impeccably executed the captain of "Real" Sergio Ramos.
"Matress" managed to level the score only in the end of the fight - team veteran Diego Godin gnawed the ball from the opponent on the flank and made a lumbago into the penalty area, and there after a small mess, Diego Costa pushed the ball into the net and formalized in the match double.
And in extra time the team of Diego Simenone, who watched the match from the VIP-box due to disqualification, demonstrated the fighting character and for several minutes twice disappointed Keilor Navas - first noted Saul, and then scored Koke. In the remaining time, "Real" did not even create a moment to at least reduce the gap.