Clearly struggling in 3rd place with a couple of hundred metres to go, check out Jamie Cooke's spectacular fightback towards the finish line. Does he have enough to catch Frenchman Prades Valentin?
Have a look at the video below starting around 37:29
Now that's what I call a grandstand finish!
With so much ground to be made up, Valentin Prades thought he had it wrapped up and raises his weary arms in celebration. What he didn't count on was Cooke having an amazing second wind, and storming to the finish line, to pip Prades by 0.03 of a second.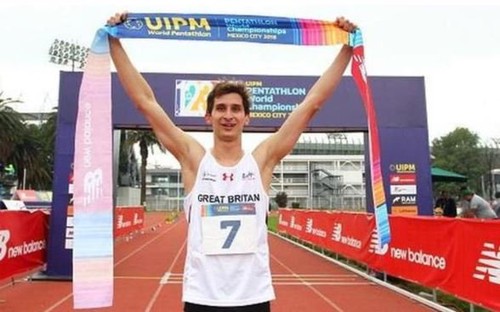 Cooke became the first British male winner of the modern pentathlon world championship since Richard Phelps 1993 win in Darmstadt.
For those of you unfamiliar with the Pentathlon, it comprises of a 200m swim, 35 fencing bouts, a round of show jumping, four laser shooting series and four 800m runs.
Watch again how Cooke eases past Pavlo Tymoshchenko, of Ukraine, to move into second place, before produced a gut bursting turn of speed to pass Prades and snatch gold by the bare minimum - 0.03 seconds to be exact!
He found power from above from his Grandad
"I've worked so hard for this. I was really struggling on that last lap and unfortunately my grandad died last week so that was for him." said Cooke before continuing that "it was a dream come true!"
Cooke found himself languishing in 7th place after the swimming, fencing and show jumping, but managed to get back in contention on the run/shoot before his spectacular finish.
"My first shoot was terrible, so I was trying to make amends for that," Cooke told reporters
"I saw Valentin go past me and I thought 'oh no', but I just dug in and kept going to see what could happen." he continued with a hue smile etched across his face.
"I just found in the last 100m that I had something left in my legs."
Quite incredible. It teaches us two things about sport I guess. Firstly, never give up until the bitter end, and secondly, never assume you have something won, as the cliche goes, it's not over till the fat lady sings...
Thanks for reading