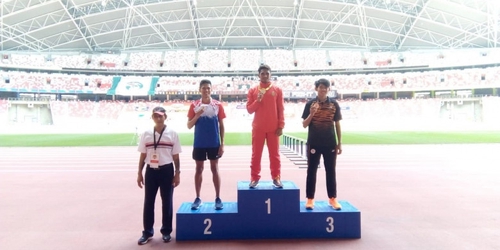 The Indonesian athletics team again achieved success at the 2018 Singapore Open athletics championship. Down with only 8 athletes athletics team Indonesia won 2 gold medals, 2 bronze and 2 bronze

_________________________________________
This record is indeed far from the results of Indonesia's participation in the Singapore open a few years earlier. In 2016, Indonesia was able to become the overall champion with the acquisition of 9 gold medals. 4 silver and 2 bronze.
In the Championship which lasted for two days and ended on Thursday (12/4/2018), Indonesian gold medal was won by Andrian's hurdler from the 400m hurdles and medium-range runner Budiman Holle from 1500m.
Both managed to put aside their opponents from Thailand and Malaysia and host Singapore.
While two silver medals won the high jumper son Rizky Pratama and javelin son Abdul Hafiz .
Despite leading rival Asean rivals, Rizky, who managed to jump as high as 2.13 meters, has not been able to defeat South Korea's high-pitched Sanghyeok Woo who competed in a 2.17-meter leap.
In the javelin number, Abdul Hafiz , who had thrown more than 70 meters, but was disqualified for breaking the throw line, losing to the Thai javelin thrower, Peerachet Jantora who was able to throw as far as 68.44M. The farthest throw of Hafiz is 65.67 M.
Two bronze medals won by Indonesian women's high jumping athlete Nadia Anggraini and Sri Maya Sari female runner in number 400 M. Nadia failed to achieve the best result after losing to Japan's high jumper Haruka Nakano with her golden jump as high as 1.81 Meters.
Nadia is only able to make the best jump as high as 1.75 meters the same as Thailand's high jumper Wanida Boowman who won a silver medal.
While Sri Maya Sari is able to run with a time of 56.63 seconds is still less competitive with two runners Malaysia Sheree Valabouy and Zaimah Zainuddin who won gold and silver medals
Source: https://juara.bolasport.com