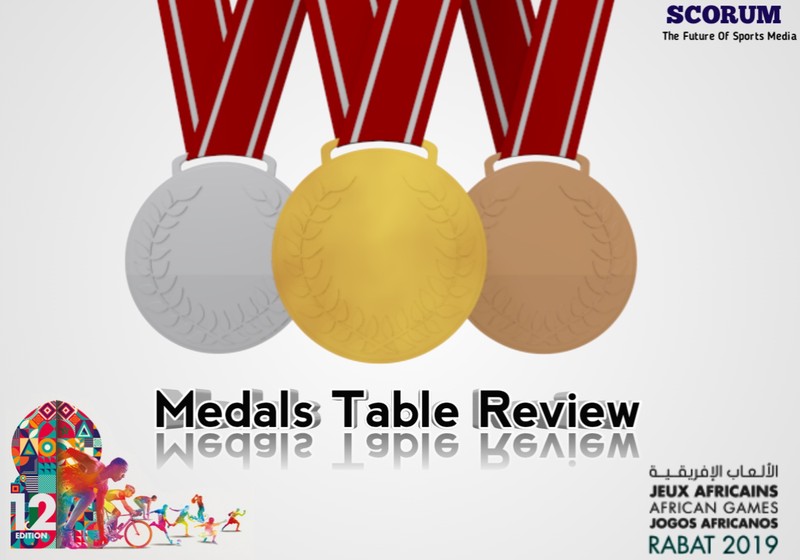 The 12 Edition of the African Games came to an end in Morocco as Team Nigeria gave a memorable outing in Rabat as they finish second behind North Africa side Egypt.
Egypt once again finish top of the medals table with a total of 273 medals. Egypt ran away with a whooping 102 gold 🥇 medals, 98 silver and 73 bronze medals)
Nigeria being the only West Africa side in top 5 finishes second with a total of 127 medals (46 gold, 33 silver and 48 bronze).
South Africa drop to third position with a 36 gold medal 26 silver and 25 bronze making a total of 87 medals.
Algeria came 4th with a total of 125 medals. The breakdown shows that they have 33 gold 32 Silver and 16 bronze.
Host Morocco complete the top five as they finished 5th with a total of 109 medals (31 gold 32 Silver and 46 bronze medals.
Senegal finished 22nd with 22 medals but surprisingly they were only able to win just one gold medal in the Men's +100kg judo event
Central African Republic and Cape Verde finish bottom with one(1) bronze medal each. Medals were won in the Men's light (63 kg) boxing events and Women's welter
(69kg) boxing event respectively.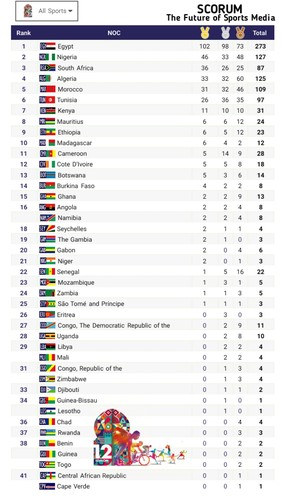 Egypt🇪🇬
This year winner dominance in the Weightlifting, Gymnastics and the Chess event.
In the Weightlifting events Egypt a total of 56 medals (31 gold,20 silver and 5 bronze)
Followed by Nigeria in second place with 16 gold, 13 silver and 18 bronze.
In Gymnastics they 15 gold, 7 silver and 3 bronze medals.
In the Chess event they won all 5 Gold 🥇 medals and 3 silver.
Nigeria🇳🇬
Team Nigeria rules the athletic events as they emerged the overall winner with 10 gold, 7 silver and 6 bronze making it a total of 23 medals.
Nigeria's Raymond Ekevwo won gold in the Men's 100m to become the fastest man in Africa.
Nigeria also won gold in women's 100m hurdles, Men's and Women's Shot Put events, Women's Discus Throw, Javelin Throw, Long Jump, Triple Jump, Women's 4×400m relay, Women's 4×100m relay.
Kenya followed closely on second place with 10 gold, 7 silver and 3 bronze while Ethiopia came 3rd with 5 Gold, 5 silver and 8 bronze medals.
Team Nigeria also dominated the Wrestling events with 7 gold, 4 silver and 1 bronze medal followed by Egypt and Algeria in second and third place respectively.
Nigeria failed to win a single medal in events like chess, judo and shooting.
South Africa🇿🇦
South Africa dominated the Swimming events with 20 gold, 13 silver and 12 bronze medals making a total of 49 medals.
They were also dominance in the Road Cycling events winning 5 gold medals out of 6 and 3 silver.
Morocco🇲🇦
Host Morocco were only able to finished 5th on the overall medals table but they were able to show dominance in some events.
In the Karate events Morocco won 9 gold medals out of possible 16.
They won all gold medals in the Snooker and Equestrian respectively.
---
Check below for Schedule & Results in all events.
---
Thanks For Staying Tuned
LET KEEP BEING ACTIVE
LET KEEP SCORUM ALIVE.