Oh yes, the nostalgia and family friendly crowd motivators went full on party mode. Out went a focus on athletics and in came the managers and pushers of as little clothing as possible. Again it could be argued this is using women to sell stuff with sex and not pay them enough HOWEVER, hundreds were turning out en force to fight for a spot on a team. The Dallas Cowboys kicked off this trend but the following teams took it to a whole new level of kitsch! OH MY!
Other teams followed suit with such awesomely silly/sassy/cheesy names like... "The Chicago Honeybears", "Buffalo Bills Jill's" and "The Washington Bullettes" just to name a few. It would be very uncomfortable to do a lot of moves with mega wedgies and that much hair spray but that's the price of being a leggy kicker of cheer!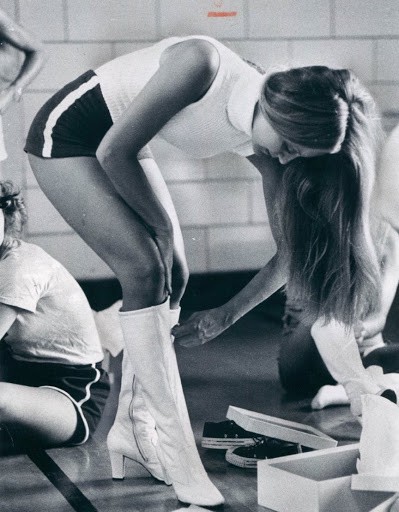 The Washington Post is sorta like the New York Times in not holding back a bit of sensationalism and sass when it comes to such hard hitting Sports news as Cheerleaders gone wild! Here is an epic quote that's pretty funny imho...
The Washington Post declares, "Their disco dancing, skimpy costumes and sultry looks have become the prototype of the new cheerleader." (The Post's coverage of the NBA's Washington Bullettes: "There they are, in their high-cut red hotpants and red wedgies, Farrah Fawcett manes tossing, dancing on the Capital Centre's basketball court to the tune of the "Bullets loaded with hustle" songs, smiling as though they were queens for a day.")
Disco and Touchdowns................A match made in heaven or hell with it's blatant show of skin and big hair? You Decide!
Thanks for being good Sports on this historical ride through Cheerleading. Greetings to new users of Scorum and stay tuned for more Curation projects, games and Pom Poms!