Ever wondered why athletes receives a lot of money? Aside the sporting activities not being easy, a lot of money is made from sports. The thousands of fans coming to watch a sporting activity pay to watch it. Many organizations also need and use them in advertising their products. You shouldn't be surprised when you hear the whopping sum placed on an endorsement deal. These athletes doesn't receive the same wages and endorsements, they are definitely richer than each other. Here is a list of the richest athletes in the world alongside their net worth.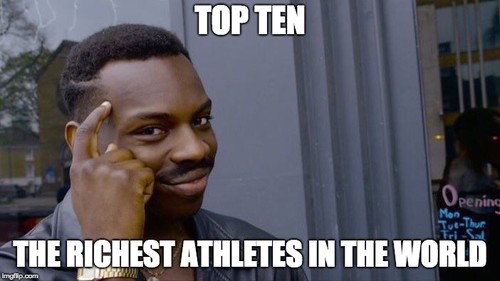 Note: This list is complied based on the properties the athletes have and the investments they've made. It's not a list of the wages/salary they earn.
10. LEWIS HAMILTON - $285 MILLION.
If you are a fan of formula one races, then you should know Lewis. He's a British racing driver that drives for Mercedes AMG Petronas. Lewis has won the formula one race four times and is currently the best racing driver. He has a mansion in London worth £18M. He also own a house in Monaco. Talking about cars, Lewis own a Pagoni Zonda 760LH, 1966 Shelby 427 Cobra, a lot of Mercedes AMG series, a Ferrari, 1967 Ford mustang, a Bombardier challenger 605, a yacht worth $3.8M and a whole lot more.
9. LIONEL MESSI - $400 MILLION
Every football fan knows this Argentine. He achieved almost everything he has in Barcelona and he built a house worth millions there. He also own a one-zero Eco house. Messi love Maserati, he bought two worth more than $300,000 together. He has a wide range of cars; a Ferrari spider ($118,000), a Mini cooper, three expensive Audis, a range rover vogue and lot more. The Barcelona star doesn't own a Jet yet but has lots of investments somewhere else.
8. LEBRON JAMES - $440 MILLION
This basketballer has an estate in Miami worth $13.4M and a house in Ohio worth $9M. He has fleet of cars too. A dodge challenger SRT, a Hummer H2, a Chevy Impala, an expensive Porsche, a Ferrari spider, a Lamborghini and a whole lot more. Lebron is one of the richest basketball player on earth.
7. ROGER FEDERER – $450 MILLION
This shows that every sporting activity actually generate a lot of money. Here is a tennis player on the list. Federer is one of the richest table tennis player having a whole lot of properties. He own a house in Switzerland worth $10M and a house in Mansion worth £6.5M. The Swiss loves Mercedes, he owns more than six of them.
6. CRISTIANO RONALDO - $450 MILLION
It's no news that the Portuguese is the richest footballer of this time. He own a mansion in Madrid worth $4.8M and Alderlev Edge Mansion worth $6M. Ronaldo owns fleet of cars too ranging from Ferrari, Mercedes, Rolls Royce, Lamborghini, Bugatti and the likes.
5. KOBE BRYANT - $500 MILLION
Here is another very rich basketball player. He own a house in Newport Coast, California that's worth $9.45M and an estate worth $10.9M. Kobe owns two Lamborghini worth over $400,000 each. He also own a Ferrari Spider, a Chevrolet Impala, an expensive Cadillac ride, a Chopper and a whole lot more.
4. FLOYD MAYWEATHER - $565 MILLION
This is the only boxer on the list. Perhaps, Mayweather's unbeaten run made him so rich. He own a house in Miami beach worth $7.7M and a house in Las Vegas. This American has a Gulfstream III and a wide list of cars. His love for Bentley is known everywhere. He actually bought the most expensive ones.
3. TIGER WOODS - $760 MILLION
A gulf player making the list? Don't be surprised! Those players earn a lot too. Tiger woods has lots of sponsorship deals and many millionaires invested in him. He's the richest golf player. He own a house in Florida worth $55M, a Porsche Carrera worth $760,000 and lots of other brand of cars. Tiger has a privacy yacht worth $20M and a Gulfstream G550 worth $48M.
2. MICHAEL SCHUMACHER - $800 MILLION
If Lewis is called "rich", then Michael should be called "very wealthy". He is three times richer than Lewis. Michael is a retired racing driver for Jordan Grand Prix and Ferrari. He once left the sport, but when he returned, he raced for Mercedes. He shouldn't be on this list because he's retired. Since he acquired all his wealth from sports and nobody has beaten his wealth record, then he should have a place here. Michael owns a house in Switzerland and a private Island in Dubai. He has wide range of cars; the popular brands and a yacht.
1. MICHAEL JORDAN - $1.5 BILLION
The only athlete worth billions in dollars. He's a retired basketball player. His wealth can't be overlooked, that's why he's on the list. He own a house in Florida called the bears club, it's worth $20M. He also has a $21M house in Chicago and a Charlotte Penthouse. Jordan's wide range of cars can't be counted, it's just too many. He own a Gulfstream 5 worth $10M. This man is just too wealthy.
And that wraps it up!
Until next time…