Abebe Bikila, Haile Gebrselassie, Emil Zatopek and Paul Tergat are athletes who have written the history of the world marathon in golden letters. A 33-year-old Kenyan, Eliud Kipchoge, has joined this select group. With a stratospheric record of 2h01:39 in Berlin, Eliud Kipchoge is expanding his record to become a legend. The Kenyan athlete lowered in one minute and eighteen seconds the previous record, which his compatriot Dennis Kimetto achieved in 2014 also in the Berlin Marathon. He did it in a precise and perfect race in which he had the help of three 'hares' that were falling exhausted with the passing of the kilometers, the last one in the 25th, so for more than a third of the race he ran alone.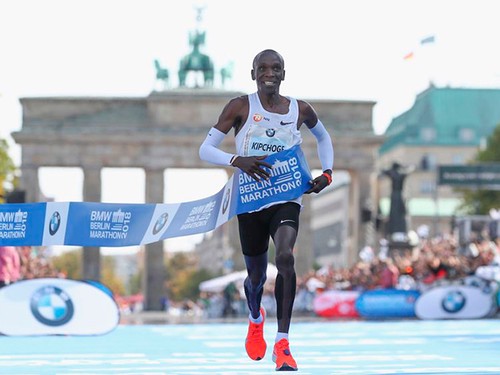 "I was perfectly prepared and conscientious. I just wanted to run my race. Now I am infinitely grateful and happy," said Kipchoge as he crossed the finish line of a marathon that is characterized by its flat profile and favorable to achieve good records. For the Kenyan athlete, the Berlin race always had a special component. The only one of the eleven marathons he had not won in his career was that of the German city in 2013, precisely against his compatriot Kipsang. After that defeat, Kipchoge sought twice the world record in Berlin, but on both occasions luck was not on his side, although he won both. In 2015 a problem with his templates at the beginning made him slow down his career and in 2017 the rain was an enemy too heavy.
Kipchoge's impressive record has not gone unnoticed by the athletic community. One of the great Spanish marathon runners, Martin Fiz, world champion in 1995 in Gothenburg (Sweden), said in his social networks feel "more than emotion the following".
"Still impressed by Eliud Kipchoge's feat yesterday in Berlin. It's hard to grasp what he got. Not even for me that at some time I could have endured more than 10km to his marathon rhythms," says Pablo Villalobos, double Spanish marathon champion in 2011 and 2017. His fixation with the world record first and then with the possibility of lowering the two hours made him test in May 2017 an experiment that was never homologated. He ran a marathon at the Italian circuit of Monza in 2h25, but was not taken into account by the International Athletics Federation because in front, opening the way, was a vehicle Tesla and hares that were relieved to withstand the rhythms.
Kipchoge's love affair with marathon doesn't come very far. In fact, his first forty-two kilometers in competition were in 2013 winning in Hamburg (Germany). Before that, his greatest successes had been a bronze medal at the 2004 Olympic Games in Athens in 5,000 metres and two silver medals at the 2007 World Championships in Osaka and the 2008 Beijing Games, also at the same distance. The world record in Berlin is the highlight of the sporting career of Kipchoge, an athlete who does not give up his origins as a child without resources, still lives in Kenya and does not make any ostentation of the money he earns with his victories in all international competitions.
His values are very marked and these make him keep his feet on the ground. One of his refuges is reading and, as he has confessed on occasion, reading Aristotle and self-help manuals allows him to find a point of equilibrium.
No one knows what the next challenge might be for this athlete of just 1.67 meters, but what is clear is his fixation with a time, two hours, and a question: Where are the limits of the human body?