The last couple of days have been full with tennis. Of course, today tennis was played as well, but the main focus was on the PSD Bank Meeting in Düsseldorf, Germany. This event is the final event of the World Indoor Tour in athletics. There were six events for women on the menu: 60 meters, 400 meters, 800 meters, pole vault, shot put and triple jump.
The main event, or the event that grabbed the most attention beforehand was the 60 meters race. Ewa Swoboda was unbeaten in 2019 so far. She has won the 60 meters races in Karlsruhe, at the Copernicus Cup, as well as at the indoor meeting in Madrid. The fastest time she run in 2019 was 7.10 seconds to cover those 60 meters. Swoboda was the big favorite to win the gold medal in Düsseldorf as well. Other potential winners were Marie-Josée Ta Lou and Dafne Schippers. Ta Lou's best time in 2019 so far was 7.15, whereas Schippers would only come to 7.19 as her best time until now.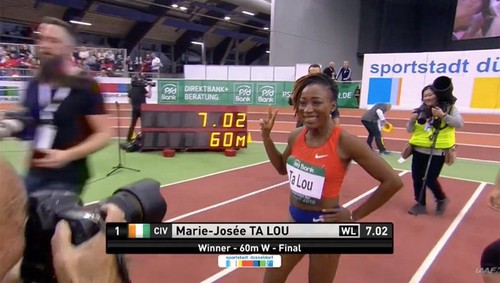 When the 60 meters runners crossed the finish line in Düsseldorf today Swoboda finished again in 7.10 equaling her season's best. Schippers run 7.19, also matching her previous best time. Ta Lou on the other hand, was the highlight of the race, and her performance makes her the Girl Power Lady of the Day, 20 February 2019. She did not only win the race today, she was the first one to beat Swoboda in this calendar year, and the first one to beat her in a race over 60 meters since the World Championships in March 2018 in Birmingham. The time was a World Leading time, it was Ta Lou's personal best, and it was a Düsseldorf track record. Ta Lou needed only 7.02 seconds to cross the line.
The win over 800 meters went to Africa, just like the 60 meters race. Lady of the Day Ta Lou comes from Ivory Coast, whereas the winner of the 800 meters comes from Ethiopia. Habitam Alemu finished the distance in just over 2 minutes. She was more than 1.5 second faster than the rest of the pack. Shelayna Oskan-Clarke won the silver medal, and the bronze was awarded to Liga Velvere who finished shortly after Oskan-Clarke.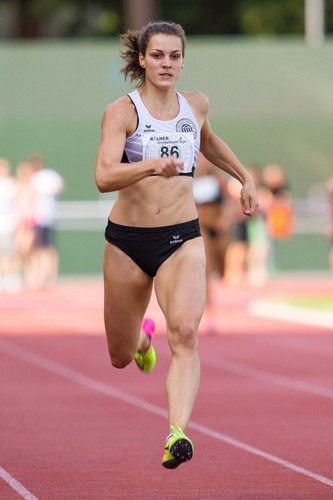 In the 400 meters event local lady Lena Naumann managed to win her first professional win in her career. Her time of 54.61 seconds was well enough to keep the field on a distance. Winning your first ever race as a professional must be an amazing feeling, but to do that in your own country, would make that extra special.

Second placed Djamila Böhm is also a German athlete and what goes for Naumann, goes for Böhm as well. Never had she achieved such a high ranking in such an important event. The organizers can be proud of bringing in such talents who deliver such results in such an early stage of their careers. The bronze medal in this race went to Norway. It was Astrid Mangen Ingerbritsen who managed to finish third in 55.35 seconds, 0.18 seconds slower than Böhm's time in second place.

On the technical disciplines Fanny Roos from Sweden was the first one to set a decent distance in the shot put event. For most of the competition no one would be able to challenge her. Eventually Christina Schwanitz won the second German gold medal of the evening by reaching a distance of 19.14 meters. Roos' 18.47 meters turned out to be good enough for silver, whereas Anita Márton's 18.34 meters was enough to win the bronze medal.
Yulimar Rojas added yet another win to her already impressive medal tally. The triple jump event is her domain and today was no difference. Her jump of 14.46 meters was 24 centimeters further than second ranked Patrícia Mamona from Portugal. In this case the bronze medal was for Kristiina Mäkelä from Finland, who reached 14.05 meters.

The world of athletics still suffers from the ban on Russian athletes, but some of them have been allowed back in competition already. One of the first athletes with the new status was Anzhelika Sidorova, the pole vaulter. She got cleared and was ready to participate in international events again since January 2018. Now that she is back in action for over a year, we can already see that she is back in a top form too. She participated in two events earlier this month and won both of these. This unbeaten record of 2019 is still active as of today, as Sidorova cleared 4.77 meters today, 10 centimeters higher than second placed Nikoléta Kiriakopoúlou from Greece. Former legendary vaulter Ekateríni Stefanídi, also from Greece followed in third place.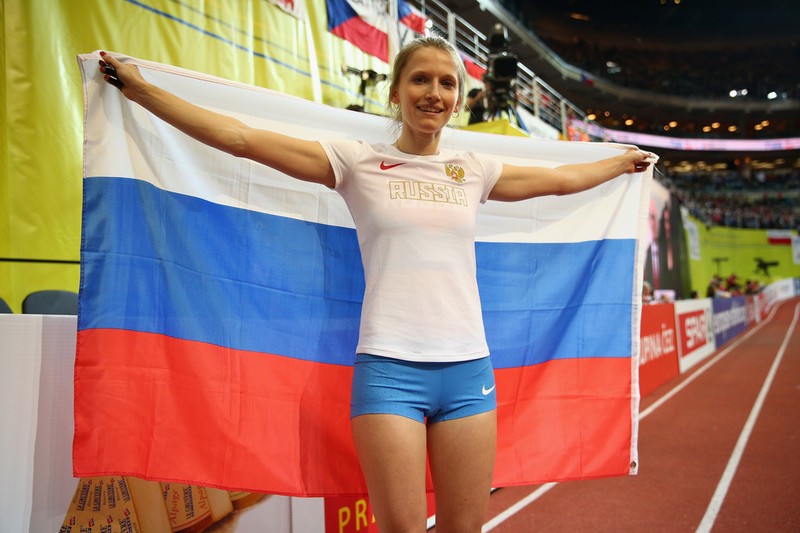 Elsewhere...

Meta Hrovat, a 17-year old skier from Slovenia won her second World Junior Ski Championships gold medal today, after she won one with her team back in 2016 in Sochi. This was her first individual gold medal. Last year she won a silver medal as an individual already. She finished the slalom race in first position ahead of Aline Danioth from Switzerland and Elsa Haakansson Fermbaeck from Sweden.
Hanna Öberg, also from Sweden won a gold medal in another sport, biathlon to be precise. She won the individual distance at the IBU Open European Championships. Öberg is a celebrity in Sweden and is, besides being famous due to her biathlon career, also famous for her modeling and fitness career.
In tennis, Pauline Parmentier won another match today, 6-1, 7-5, against Tereza Smitkova. Lady of the Day, yesterday Kristina Mladenovic could not follow up on beating WTA ranking leader Naomi Osaka yesterday. Today she lost 7-5, 7-5 against Carla Suárez Navarro. Petra Kvitova ended Jennifer Brady's run today, whereas also Simona Halep and Karolina Pliskova reached the next round. Garbiñe Muguruza lost 6-1, 6-2 against Elena Svitolina. Angelique Kerber who won the first set against Su-Wei Hsieh, but then lost grip over her opponent and lost the decisive set 6-0.