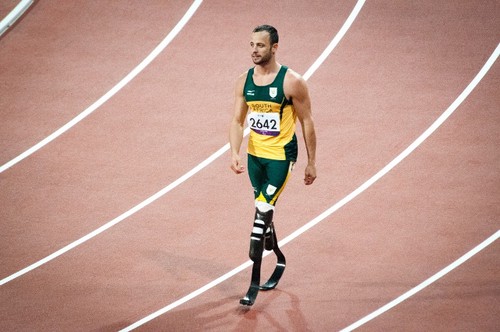 He was idolised
He was praised
He was awarded
He was celebrated and;
He was honoured
Having grown up without legs, due to amputations he suffered as a child, even before he turned a year old, Oscar Pistorious was determined to become a success in the world of sports.
Losing his two legs didn't limit his sporting desires in any way. A leg-less Oscar Pistorius tried out for Rugby.
He successfully competed in the sport until a serious injury at the time, put an end to his dreams as a pro Rugby athlete.
After his unfortunate injury in the rugby sport he came in contact with a Prosthestist named Francois Van Der Watt, who encouraged him alongside Coach Ampie Louw to try running.
With the help of Van Der Watt, Pistorius was able to procure running blades and commenced his sprint career.
He began competing successfully in Paralympics events, and received praise for his sheer resilience and determination in the sport.
He faced a major obstacle in competing with other athletes though when the IAAF prevented him from competitions because they concluded that his running blades gave him undue advantage over other runners.
Oscar Pistorius successfully appealed the decision at the Court of Arbitration of Sports and won the case; allowing him to continue his sprint career.
Lots of track and field success followed Pistorius after winning his case against the IAAF to be able to compete with other runners.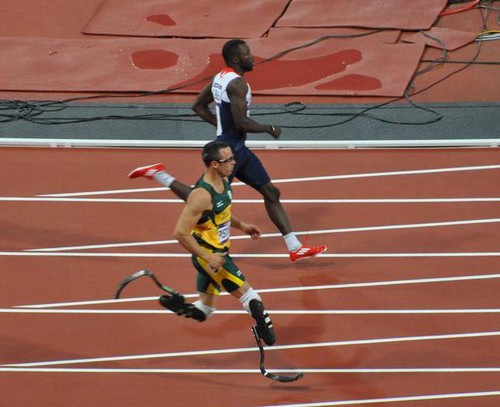 He became the first amputee to compete at an Olympic event, when he lined-up against able-bodied athletes at the London 2012 Olympic Games.
Oscar Pistorius won a lot of awards during his active career, and was at a point, one of the 100 mst influential people in the world.
Such was the fame and accolades that came with Oscar Pistorius's performance and legacy as an amputee on the tracks.
Sadly, after a life full of so much praises and adulations, Oscar Pistorius is now currently serving time in prison for charges related to shooting and killing his girlfriend Reeva Steenkamp.
The horrible incident, put an dent on the career of a man who was an inspiration to other amputees, handicapped and challenged individuals all over the world.
Oscar Pistorius turns 32 years of age today, but might no longer have the joy of celebrating his birthday as a cherished star – such has been his fall from grace.