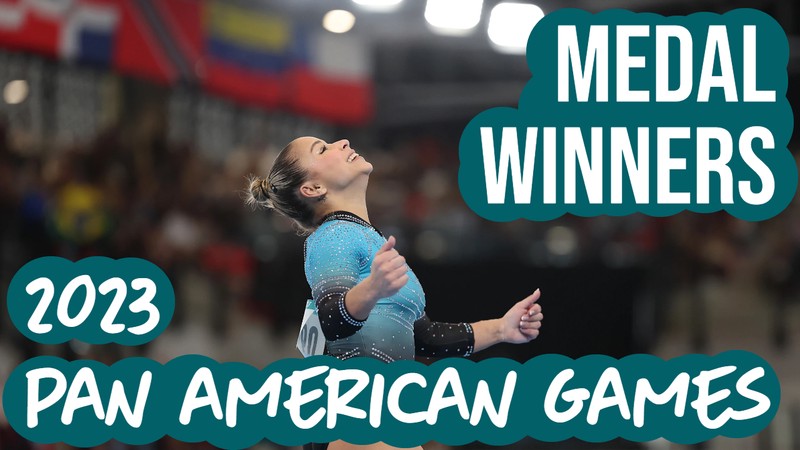 With the fantastic Antwerp world gymnastics championships still buzzing in our minds, we had another chance to see some of the gymnasts who participated in that competition at the 2023 Pan American Games, together with some other who couldn't make it to worlds.
Usually, the Pan American Games are held before the world championships, though this year, they were starting merely a couple of weeks after the world championships. Quite often, many of the top athletes go back to training to prepare the following season after the world championships, so they don't send their top athletes to any competitions happening between worlds and the end of the year, however, this wasn't the case this year with many of the teams, such as Brazil, that sent their best elite team to Santiago.
Flavia Saraiva was the most successful gymnast, taking home 5 medals (out of 6 available). If you had told her that about a year ago, she wouldn't have believed you, as she was struggling with a painful foot injury that didn't let her even train beam; she was seriously considering quitting, but her coach convinced her not to and she continued training until she started competing, and winning medals, again.
Rebeca Andrade won the most individual golds in the event finals, getting the highest scores on vault and beam, amounting to a total of 4 medals. Rebeca didn't compete on floor on the qualifying/team final session, therefore she didn't qualify for the all around; but that only allowed for her team mate, Jade Barbosa to compete and finish just out of the podium, in 4th place.
The USA won yet another team medal, and Kayla DiCello, who had been an alternate at the world championships, won the all around title. Jordan Chiles also had a very successful competition, adding 3 medals to her collection.
It was also a good competition for Canada, with Ava Stewart receiving the 3rd highest score in the beam final and 5th in the all around; Aurelie Tran was 7th in the all around.
Watch the video above to see all the medal winners in the competition.