2018 was supposed to be a poor year for track and field. With Usain Bolt retiring and Mo Farah moving on to the marathon, the sport lost two of its true superstars. Adding to that, rising star Wayde van Niekerk got injured during a charity rugby match and probably won't race before 2019. There are also no major championships. However, 2018 has actually turned out to be a fascinating year in athletics, as a number of world records seem to be under a threat.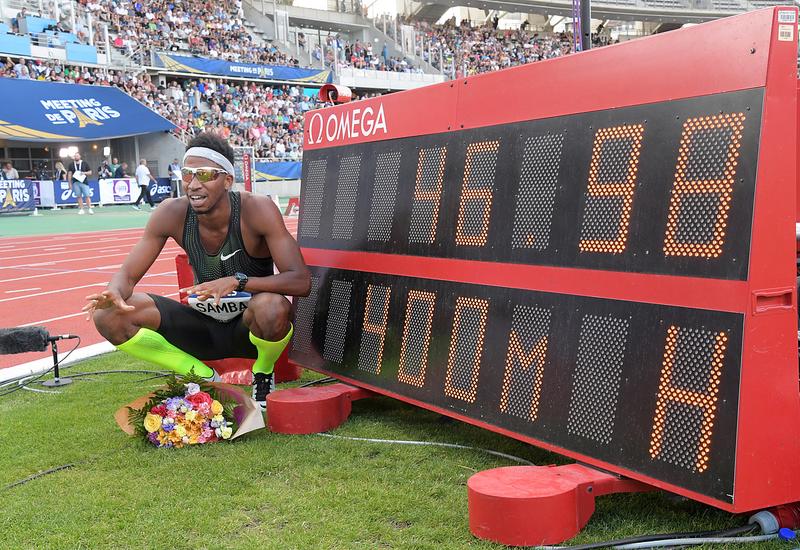 Men's 400m hurdles (46.78)
The fastest 400m hurdles in history was run by Kevin Young in the 1992 Olympics final when he broke Edwin Moses' record 47.02 from 1983. Since then, there have been a number of outstanding hurdlers like Felix Sanchez and Kerron Clement, but the world record hasn't really been seriously threatened - until now. Abderrahman Samba has just run the second-fastest time ever.
Samba, who took up the even only last year, has dominated the field in the IAAF Diamond League this season, winning every race, while making everybody else - including world champion Karsten Warholm - look average on the track. At 22-year-old, Samba is only the second human ever to finish 400m hurdles with a time under 47 seconds and according to the man himself, he could even be a second faster next year.
It's an incredible story with Samba, but he's not the only one threatening to break Young's record. 20-year-old Rai Benjamin came out of nowhere to match Moses' time at the NCAA championships in June, doing so in horrible conditions.
Benjamin has just turned pro and made his Diamond League debut last weekend in Paris, finishing second in the 200m race. If he and Samba go head to head in a race before the year is done, then Young's time surely won't survive much longer as the world record.
Men's 3000m steeplechase (7:53.63)
The steeplechase record could fall before this month is done. Olympic champion Conseslus Kipruto has said that he plans to attack it on July 20 in Monaco. Saif Saaeed Shaheen holds the current record since becoming the sixth man to finish the event with a time under eight minutes in September 2004.
Kipruto has been close to joining the exclusive club, which now has 11 members, but the best he's ever managed is 8:00.12. His season-best currently stands at 8:08.40, so it would take one hell of an effort to beat Shaheen's time, but the 23-year-old sounds pretty confident.
Women's 800m (1:53.28)
The women's 800m has one of the oldest world records around, with Jarmila Kratochvílova posting 1:53.28 in July 1983. There have been only two women who have managed to run under 1:54. It's a very tough record to beat, but with Caster Semenya, nothing should be ruled out.
Semenya won his 25th consecutive race last weekend, taking nearly a second off her personal best to run the fourth-fastest time ever with 1:54.25. With IAAF aiming to ban athletes like her after November 1, Semenya seems to run with a fire in her belly right now, not even needing pacers to post a superb time.
There are three more 800m races left on the Diamond League calendar, with the last one being in Monaco. Maybe we'll even see two world records on July 20. Getting the record and putting it far out of reach for others would be the ultimate middle finger from Semenya to IAAF for bullying her.
Men's long jump (8.95m)
In field events, the men's long jump has one of the oldest records. Carl Lewis and Mike Powell had a brilliant fight for the 1991 World Championships gold, which produced the record for the latter.
Powell broke a record which stood since 1968, so the long jump is an event where world records are very rare. With this in mind, we should feel incredibly blessed to see a talent like Juan Miguel Echevarria. The guy doesn't turn 20 until August and he's already in the top-10 on the all-time list following an 8.68m effort on June 30.
The Cuban teenager even recorded 8.83m in the Stockholm Diamond League event on June 10, but the wind was only just illegal (+2.1).
Echevarria's 8.68m is the best-ever mark by a teenager. If Powell's record doesn't fall in 2018, then it will still stay under threat for many years to come.
Men's javelin throw (98.48m)
There was a time when throwing the javelin past 90 metres was seen as something extraordinary, so the world record 98.48m by Jan Železny looked pretty much as unbeatable as they come. However, in 2018, we have a number of athletes sending the spear past the 90-metre mark.
World champion Johannes Vetter, who posted 94.44m last July for the second furthest attempt ever, is one of three Germans, who have managed to throw 90-plus metres in 2018. Vetter himself has had three such attempts.
It's not about who can throw 90 metres anymore, it's about racing for 100m. Vetter has said that he believes it is possible to go beyond 100 metres. Guess we have to wait and see.