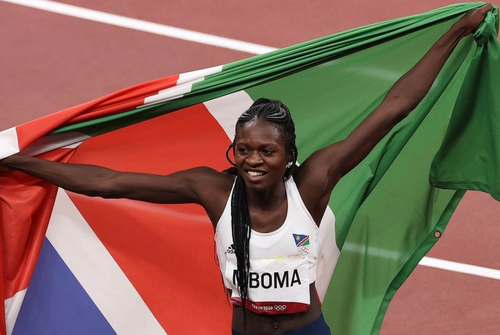 Transgender people envy Namibia's runner

Another scandal rocked the 2020 Tokyo Olympics. Athletes again distinguished themselves. In particular, the sprinter of Namibia, an 18-year-old girl, Christine Mboma was able not only to amaze the entire sports world, but also to win a medal at the 2020 Olympic Games in Tokyo.
The essence of the scandal that erupted around the athlete of Namibia
The girl was born with a unique set of chromosomes. She is an intersex variation of the DSD XY. That is, in her body, with a violation of sexual development, a male combination of chromosomes began to develop.
In the body of such women, the level of testosterone is several times higher than that of an ordinary woman. Accordingly, they are more resilient, strong and fast. The level of the male hormone is higher than that of an ordinary woman, at least three times higher.
Accordingly, it is not surprising that she could become a real sprinter in 6 months. Even before April, Christine specialized in the 400m. But due to the inability to perform at the Olympics in this discipline, she retrained. The girl decides to compete at the 200-meter race.
The final run of the Namibian runner was a record. She was able to beat the World Record for girls under the age of 20. In particular, she ran the distance in a phenomenal 21.81 seconds.
Why did Christine decide to run not 400 and 800 meters, but 200 meters?
The Namibian athlete specialized in the 400-meter distance. But, in the history of athletics, there has already been a precedent when an intersex girl won international competitions. The representative of South Africa Kaster Semenya showed outstanding results at a distance of 800 meters.
Olympic officials have conducted a number of studies. They found out how a rare combination of chromosomes affects the female body. Ultimately, they imposed restrictions on the level of testosterone in the blood of female athletes. Those who have it above the established standards cannot compete at international competitions. In fact, these girls were equated with men. But, the restrictions applied to only three disciplines: 400, 800 and 1500 meters. There are no such restrictions at 200 meters. Christina Mboma took advantage of this oversight of the Olympic functionaries. In six months, she was able not only to get used to the new distance, but also to show record results.
Consequences after Christine Mboma's race
Olympic officials will investigate this situation from all angles. They will likely impose testosterone limits on all running disciplines in women's athletics.
At the same time, we must not forget about the transgender scandals. For ex-men, testosterone levels remain higher than that of women. It turns out that if a restriction on the level of testosterone is introduced, then it will also affect women who were previously men. As a result, we can say that the road to athletics will be closed for transgender and intersex girls.
Thus, you can try to believe that at least in athletics, transgender people will not be allowed to compete. But, again, this is written with a pitchfork on the water. It is possible that in the future we will not see sports in the way we are used to.