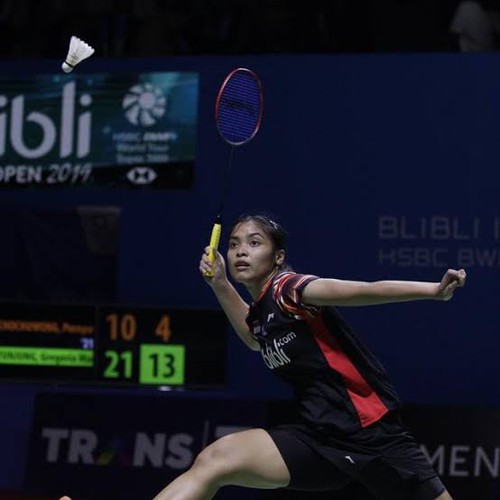 The Indonesian women's team is in Group Y with Thailand and the Philippines at the 2020 Asian Team Badminton Championships in Manila, Philippines, February 11-16. Although joining Thailand, which in fact is not an easy opponent, Indonesia is still eyeing the group winners. This Asian Tournament is also a qualification for the 2020 Thomas and Uber Cup.

The Thai women's team is ranked fourth in the list of seeds, one level above Indonesia. Indonesia revealed Gregoria Mariska Tunjung as the first female single. The women's singles number was also strengthened by Ruselli Hartawan, Choirunnisa, and Putri Kusuma Wardani.
The name of the mainstay female singles Thailand, Ratchanok Intanon, is not registered in the team. But Thailand still has a strong single female line, Pornpawee Chochuwong, Busanan Ongbumrungphan, including young player Phittayaporn Chaiwan.
Our daughter's team in Group Y is ranked second after Thailand, so at least the target is runner up, but we also want to be champions, even though we have to work hard, "said the Head of Development and Achievement Division of PP PBSI., Susy Susanti, through the PBSI release
In terms of ranking and quality, the Thai women's team is more above Indonesia, especially in women's singles. But the name of the match nobody knew. Before the match starts, we remain optimistic and excited. Especially in this squad there are young players, they can take experience and play without burden.
In the women's doubles sector, Indonesia is still ahead of Thailand. Indonesia was strengthened by Indonesia Masters 2020 champions, Greysia Polii / Apriyani Rahayu and two young couples, Ni Ketut Mahadewi Istarani / Tania Oktaviani Kusumah and Siti Fadia Silva Ramadhanti / Ribka Sugiarto.
However, the dual strength of Thai women cannot be taken lightly. The Thai women's doubles were represented by Jongkolphan Kittitharakul / Rawinda Prajongjai and Chayanit Chaladchalam / Phataimas Muenwong who were often fierce opponents of Greysia / Apriyani.
scorum promotion:👇👇👇
https://www.facebook.com/irak23/
https://www.facebook.com/updategam3rs/

https://www.facebook.com/groups/scorumblog/

https://www.facebook.com/groups/2246597958712330/

https://www.facebook.com/groups/1982608372046382/

https://www.facebook.com/groups/616504648418582/

https://www.facebook.com/groups/421567894585604/

https://www.facebook.com/groups/1555503924585867/
https://www.facebook.com/groups/232891467618329/
https://www.facebook.com/groups/274607113385466/
https://www.facebook.com/groups/2071862589791369/
https://www.facebook.com/groups/521363684981010/
https://www.facebook.com/groups/2247090888656332/
https://www.facebook.com/groups/1905406126437303/
https://www.facebook.com/groups/1546885095553342/
https://www.facebook.com/groups/IndoFilem21.top/
https://www.facebook.com/groups/845480612201157/
https://www.facebook.com/groups/476356649120335/
https://vk.com/id570965381
https://www.linkedin.com/in/kampret-kocak-06346519a
https://www.facebook.com/groups/1347620962080284/
https://www.facebook.com/groups/1519347004853018/
https://www.facebook.com/groups/404778820340656/
https://www.facebook.com/groups/1394056700624926/
https://www.facebook.com/groups/150069199114879/
https://www.facebook.com/groups/741126825964010/
https://www.facebook.com/groups/558654998276209/
https://www.facebook.com/groups/433975550528160/
https://www.facebook.com/groups/411844132498631/
https://www.facebook.com/groups/628045047563410/
thanks you to all regards @irak from indonesian scorumian