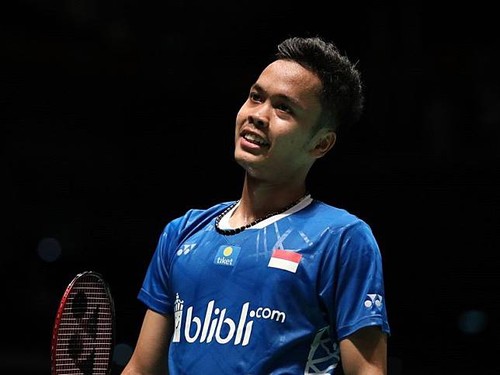 Good results from Anthony Sinisuka Ginting in the first round of Victor China Open 2018, Tuesday (09/18/2018). Faced with one of the legendary hosts, Lin Dan, Anthony won through a rubber game.
It took almost an hour for Anthony to beat Lin with a score of 22-24, 21-5, 21-19. With this result, not only brought the 21-year-old to the second round, but also tightened the record for the two players' meeting.
Before the match, Anthony lost two of his two meetings with "Super Lin". Now, the score becomes 2-1. However, to attenuate the score of the meeting was not an easy matter for Anthony to defeat Lin.
Understandably, in addition to fighting players who have won all the titles in the world of badminton, he also has to face the support of host supporters at the Xincheng Gymnasium Olympic Sports Center, Changzhou, China, which was addressed to Lin.
This was proven in the first game. Anthony had missed 8-2 at the start of the match. Gradually, the player from Cimahi, Bandung Regency, West Java, was able to narrow down his deficit, even though he eventually lost through deuce.
Even so in the third game. Anthony was far ahead, 17-10. Here the cheers of the host supporters seemed to burn Lin's enthusiasm. This last name narrows to 18-18. Luckily Anthony got up and closed the game with numbers 21-19.
"There is a feeling of tension too far away, but I tried to really focus again. When I found out that he was not comfortable, I immediately accelerated the tempo," Anthony added as quoted by Badmintonindonesia.org.
Lin calls Anthony as fast. Gold medalists at the 2008 and 2012 Olympics also said that Anthony was a calm and fast player in front of the net.
"The response was very fast in front of the net. The coach gave directions so that I direct the shuttlecock upwards, this was also immediately resolved quickly by Ginting with the smash. At the critical moment, he could appear more stable," said Lin.
Escaped from Lin, Anthony could not relax in the second round. He will face Viktor Axelsen (Denmark), a player who just beat Anthony in the Japan Open 2018 quarter-finals last week. The record for these two players' meetings is 1-1.
Besides Anthony, on the first day of the 1000 BWF World Tour category championship, there were five other Indonesian representatives who dropped. Of these, four of them managed to advance to the second round.
One of them was the Tontowi "Owi" Ahmad / Liliyana "Butet" duet Natsir. In the opening match, Owi / Butet is able to win easily over Yuki Kaneko / Misaki Matsutomo (Japan) 21-7, 21-16.
It only took around 22 minutes for the world number three mixed doubles to defeat Yuki / Misaki. One of the causes of such a landslide victory is, Yuki / Misaki is not an ideal tandem.
Yuki used to play in men's doubles. While Misaki is in the women's doubles. "Japan really likes to try, whether it's to warm up or they are looking for mixed doubles because there is no stable in this number," Butet said.
So far, the Japanese mixed doubles that have been quite stable are Yuta Watanabe / Arisa Higashino (ranked 13th in the world). And, in the second round, Owi / Butet will face Yuta / Arisa.
In the first round, the Japanese double won over another Indonesian pair, Hafiz Faizal / Gloria Emanuelle Widjaja with a score of 22-20, 16-21, 21-16. "We have to be ready to face young players. We may win in experience, so we have to be able to outsmart how to reduce them," said Owi.
Another Indonesian representative who made it to the second round was Fajar Alfian / Muhammad Rian Ardianto. They are able to release the third seeded champions from Japan, Takeshi Kamura / Keigo Sonoda with a score of 20-22, 21-15, 21-15.
In the women's doubles sector, two Indonesian representatives also managed to set foot in the second round. The first is Rizki Amelia Pradipta / Della Destiara Haris, wins over Chow Mei Kuan / Lee Meng Yean (Malaysia) with a score of 21-16, 21-17.
Then, second, Greysia Polii / Apriyani Rahayu, who won over the German player, Johanna Goliszewski / Lara Kaepplein with a score of 21-17, 21-15.