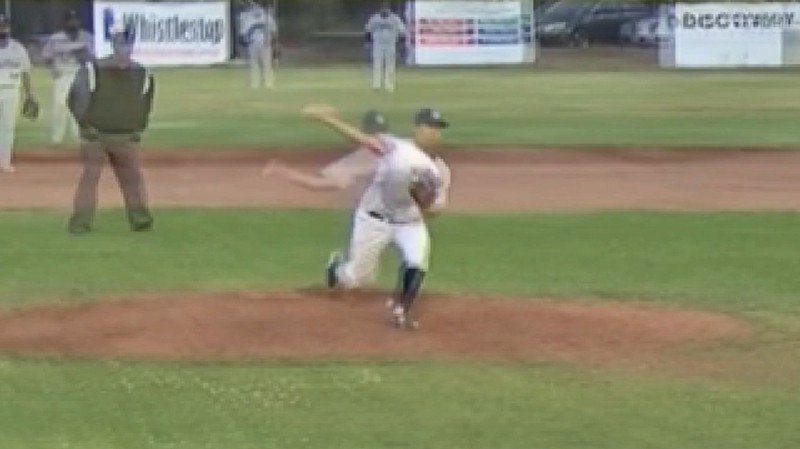 I broke my pitching delivery mechanics down and confirmed what I felt that day. Things weren't going our way as you can see with the ground ball up the middle. A double play would have gotten us out of the inning but hey, things could have been worse. I pitch from the submarine angle and from a Three-Quarters delivery which gives me an element of deception when everything is working right. Slider from the submarine angle, curve ball from Three-Quarters, and forkballs and fastballs from both angles. That day I felt like I couldn't get low enough and was mainly throwing sidearm instead of true submarine. It turns out my arm slot was pretty low on my Three-Quarters delivery as well causing both deliveries to look too similar. For some reason I had no feel for my slider that day which is my best pitch. It wasn't a great outing but at least I can take something away from it and learn from the experience. I am always grateful for the opportunities I have recieved and never take them for granted. I'm a way better hitter than I am a pitcher but there are way more opportunities for pitchers. I will never drop the bats completely but know that being able to pitch is the key to the clubhouses.
https://d.tube/#!/v/brianphobos/skgl5z5q4es
There is the link to the DTube video (1 Minute Long)

Usually every bullpen has at least one guy who throws from the submarine angle. It is unclear if the first person was an American baseball player from the 70's who developed that delivery or if it came out of Japan.

Here is a video of submarine pitchers. Most of these guys are actually throwing sidearm. There is really only about 3 of these guys throwing what I consider to be submarine. The guy from the 70's on the Kansas City Royals and the Japanese and Korean pitchers. Those guys were really low which was pretty nasty.

The guy from the royals is most like how I throw when things are working better. In my breakdown video I was actually throwing more sidearm and wasn't getting low enough.

Here is a video of a player I have been following for awhile. He has worked his way up through the independent leagues over the years and was in the best independent league this past year. The Atlantic League. Hopefully an affiliated team will give him a chance. He has always put up good numbers in every league.

Have any of you guys hit off of a submarine pitcher?