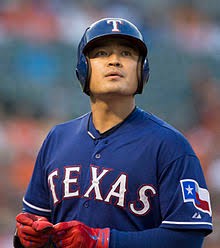 It is inevitable for a professional player. Everyone but a handful of franchise stars face trade rumors. But it's not just a bad thing. While it may seem difficult to get used to wearing new uniforms after leaving the team, there are countless cases of rebounds in the new environment. The same was true of Choo Shin-soo (36. Texas). He has experienced two deals in the Major League so far, and the trade has been his wing. Now in his position as a veteran high-ranking supporter, he has candid feelings about trade rumors.
Regarding Choo`s return to Korea today and being traded by local media, he said, "A player is a product. Good or bad, trade is following. I want to accept the situation and overcome the trade theory, but it's not as good as I thought. I don`t care about it because I always think about it
It has already become an annual off-season event. Since two to three years ago, the U.S. media has been busy setting up a scenario of Choo's trade every winter. Not long ago, there was a trade scenario in which Choo Shin-soo and San Francisco's starting pitcher Jeff Samazawa were included. It was a trade in which large contracts were still left and players who passed their peak exchanged with each other to make up for each other's shortfall.
Under these circumstances, there is nothing Choo can do. To put it in perspective, the team will use the right to reject the trade of 10 teams that were set at the time of signing a contract with the Texas Rangers in the winter of 2013. For the Texas team, if Choo sends Choo to 20 teams that he did not designate, he can complete the trade regardless of Choo's intention. This is why Choo called himself and other players "one product." Even if the trade is established, however, it is not necessary to remain complacent. In some cases, Choo might have a better environment.
In fact, the last two trades were so. Choo, who signed with Seattle in 2000 when he was a high school student, was traded to Cleveland in July 2006. At that time, Choo was considered a top-ranking promising player in the Minor League, but as a mountain called Ichiro Suzuki stood up, he failed to catch a chance in Seattle and moved to Cleveland and exploded his potential. He became a starting right fielder in the Cleveland Indians from the second half of the 2008 season, and soon became a top player, and is on the verge of a free agent. Although Cleveland offered an extension contract in consideration of becoming a free agent in the winter of 2013, Choo expressed his desire to test his value in the market. Cleveland then traded Choo with Cincinnati in the winter of 2012 with one year left before the FA.Choo, who moved from Cleveland to the Cincinnati Reds seeking victory, responded 100 percent to the Cincinnati Reds' expectations. At the leadoff, which was Cincinnati's biggest weakness, he ranked second with a batting average (0.423), and completed his third career with 20 homers and 20 steals. He also succeeded in changing his position from right field to middle field, greatly improving his value. As a result, it signed a huge 7-year contract worth 130 million dollars with Texas in December 2013.
With the possibility of his third trade in five years, the best scenario for Choo is to leave for the team that has a high chance of winning the World Series. "I was so jealous of Ryu Hyun-jin (31. Los Angeles Dodgers), the first Korean to start in the World Series," Choo said. I usually don't watch baseball well after the season, but this year, Hyunjin went to the World Series and watched it. It was great and good to be the first Korean to start in the World Series. "I really want to go out someday," he said. Choo advanced to the postseason in 2013 and 2015 and 2016 but failed to reach the top of the league. It was the strongest experience in the fall baseball that he had fought against Toronto in the 2015 Division Series.
If there is a guarantee that Choo will repeat his performance in the first half of the 2018 season, any team can pay attention to Choo. In the American League, which has a designated hitter system, Choo can play his role at any batter's box without any defense burden. If the trade destination is the winning team, Choo is sure to receive fresh impetus and burn fire to the top.