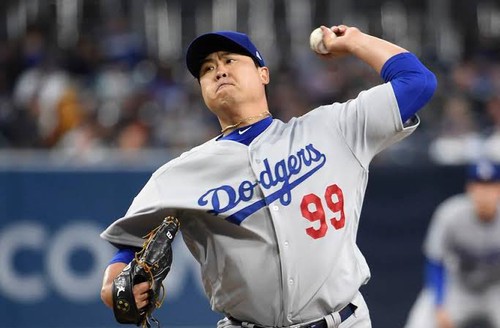 Ryu Hyun-jin (32, LA Dodgers) is fearful of his spirit. He displayed overwhelming performances in three exhibition games in a row.
Ryu started in an exhibition game against the Kansas City Royals in Glendale, Arizona on Sunday and recorded one hit and three strikeouts in three innings.
He has no goal in three exhibition games in a row. Ryu pitched well in the first inning of the game against the Los Angeles Angels on April 25. In the match against San Diego on Sunday, he outstripped his opponent by scoring two innings without a loss. He also tied his opponent tightly in his third appearance game, raising expectations for the regular league.
The beginning was unsettling. The lead hitter, Witt Merrifield, led the ball count to one ball and two strikes, and the catcher Austin Barnes lost one out count when he missed the ball. He sighed as he caught the right fielder with a floating ball. The third batter, Jorge Soleer, has returned to the third strikeout after a full-count match.
He was stable in the second inning as well. Frank Schwindel was caught with a grounder on third base in just two pitches. The Chesler cover allowed a heavy hit, but Chris Owings and Kyle Isabel finished with a three-strike and a two-baseball, respectively.
When he found stability, he overwhelmed his opponent in the third inning. Ryu, who struck out Terrence Gore, dealt with Cam Caller as a floating ball on first base, while Maryfield, who attempted a surprise bunt on the first base, also calmly finished the inning. Since then, Coach Dave Roberts has dropped Ryu off the mound.
After finishing the game, Ryu said in an interview with the local broadcasting company .The cut fastball was okay," he said. "I threw the slider for the first time, which seems to be a mistake." There is a problem with the control. We will continue to try it in training, but we will not be able to use it very much.