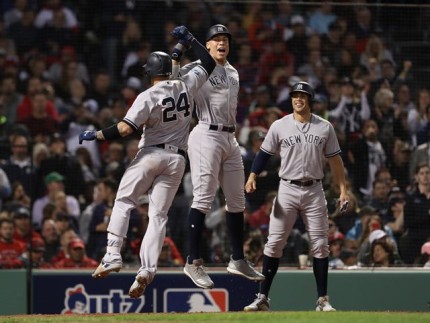 The Yankees defeated the Boston Red Sox 6-2 in the second round of the American League Division Series (five wins) at the Penway Park in Boston, Massachusetts on Sunday. The two teams, which exchanged one win each, will move to Yankee Stadium in New York on Wednesday for the third round.
The two teams met in the postseason for the first time in 14 years since the 2004 American League Championship Series. Boston went straight to the Division Series, winning the Eastern Division title with 108 wins and 54 losses in the regular season, and the Yankees moved to second place in the Eastern Division despite 100 wins and 62 losses.
In the match 14 years ago, the Boston Red Sox advanced to the World Series with four consecutive wins after losing three consecutive games to the Yankees. It was a victory that broke the "Curse of Bambino," which the Boston Red Sox gave to the Yankees at a bargain price in 1920.
The Yankees, which set the most new home runs record (267) in this year's Major League Baseball season, turned the game to its starting point with a homerun. Aaron Judge hit a pre-emptive solo shot in the first inning, and Sanchez also hit a home run in the second inning. At the first and third bases of the seventh inning, which was ahead of the game 3-1, Sanchez opened a 146-meter-high three-run store that easily crosses the Green Monster.
Masahiro Tanaka, the starting pitcher for the Yankees, pitched hard with one run and three hits in five innings. Meanwhile, David Price, a Boston starter, collapsed with three hits in 12⁄3 innings, two homers and three runs on two walks. Price, who had been selected 10 times and lost nine times in the postseason, has been named one of the three pitchers who failed to win more than nine starting pitchers in the fall season.
Houston, the defending champion, beat Cleveland 3-1 in the second round in a row. The Houston starter, Garrett Cole, led the team's victory with three hits in seven innings, 12 strikeouts and one run in four.
Meanwhile, the Los Angeles Dodgers beat Atlanta 3-0 in the second round of the National League Division Series on Tuesday. Ryu Hyun-jin (7 scoreless innings, 6-0 wins) and Clayton Kershaw (8 scoreless innings), who started in the second round, also had their first postseason win.