FIBA World Cup - Placement matche
Serbia 94-89 USA
(Q¹ 32-7, Q² 12-33, Q³ 27-28, Q⁴ 23-21)
Venue: Dongguan Basketball Centre, Dongguan.

Referees: Cristiano Maranho(Brazil)
Yu Jung (Chinese Taipei ) and Luis
Castillo (Spain)
---
The 18th FIBA men's basketball World Cup hosted in China is still ongoing as the final spots will be up for grabs tomorrow after the semi-finals in which we will witness Spain taking on Australia then Argentina versus France at the semi-finals.
France brought the USA Team's 58 winning streak (both in the FIBA and Olympic competitions) to a standstill after a 89-79 victory over the defending champions at the quarter finals as team USA failed to advance to the next stage of the competition.
Serbia also loss to Argentina at the same stage.
This will be the first time in the history of the FIBA basketball that either USA or Serbia failed to feature in the semifinals of the tournament.
Both teams fell back to the consolation bracket as the fight for 5th place.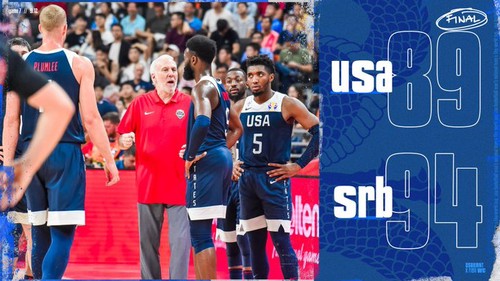 The Serbia team raced out to a 32-7 lead at the first quarter but fell behind in the second quarter with 12-33 points at the US Team run in to close the gap but, Serbia were still able to finish top in the first half with a 4 points lead as it ends 44-40.
The contest was then very close in the 3rd and 4th quarter.
The World number 1 were able to win the third quarter with a point as its finish 27-28 points.
The Serbians keep the consistency on to maintain the lead as they bounced back in the fourth quarter to win 23-21 points to record their first win over the USA and bounce back to winning ways after two consecutive defeat to Spain and Argentina respectively.
USA has now lost two games in a row after their 58 winning run ends at the quarter-finals.
Full Game Highlights
Top Performers
Serbia's Bogdanovic scored a game-high 22 points in their 94-89 victory over the World number one.
For Team USA, Barnes score his team-high 22 points and 5 rebounds.
Middleton need game-high 6 rebounds
Walker came top with game-high 8 assists.
In the other consolation bracket
Czech Republic defeated Poland with a 10 points lead as the game end 84-94 points.
What Next?
Serbia will battle Czech Republic for the 5th place finish as USA plays Poland for the 7th place on Saturday, the 14th day of September.
---

Thank You For Staying Tuned