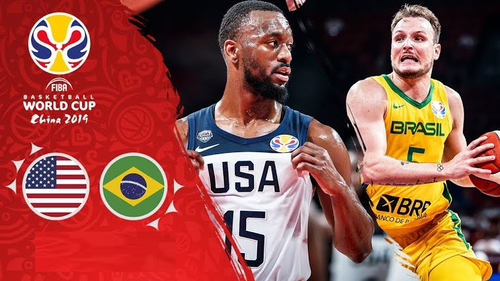 The United States won 89-73 in the match against Brazil in the 2019 FIBA ​​China Basketball World Cup, which was held at Shenzhen Bay Sports Center. The United States, who defeated Greece on the 7th and decided to advance to the quarter-finals, captured Brazil and win five games in a row.

Miles Turner led the team with 16 points and eight rebounds. Turner showed a highly effective attack with a 73% mating rate. Kemba Walker and Jaylen Brown also scored 16 points and 11 points respectively.
---
The presence of Miles Turner in the first quarter stood out.
Brazil scored seven points in the first quarter and played a leading role in the pursuit. Brazil, in particular, scored six attack rebounds in the first quarter, targeting the US goal (21-18).
The tight game flowed subtly, with variables in the second quarter. Brazilian manager Petrović, who had already received a technical foul, was sent off to the inside of the court and was sent off due to a strong protest.
---
Nevertheless, the United States did not make it a clear opportunity. Rather, it allowed a tie (33-33).
There was a slight crack in the third quarter, with the US slightly ahead of 43-39. Harrison Barnes and Donovan Mitchell earned a free throw, and Turner also had several midrange jump shots. In particular, with the end of the third quarter, Marcus Smart shot a three-point buzzer beater, leading the US to 67-56.
---
The fourth quarter was completely American. In the middle of the fourth quarter, Walker's three-point shot exploded, leading to 21 points. Brazil made several seasoned goals, but they were not enough to reverse the game. The United States, which was well-armed, no longer allowed chases and ended the race.
Meanwhile, the game attracted not only the people of both countries but also Czech basketball fans. It was because of the outcome of the match that the Czechs advanced to the quarterfinals.
---
Miles Turner 16 Points 8 Rebounds
Kemba Walker 16 points, 5 assistsJaylen Brown 11 points 4 rebounds