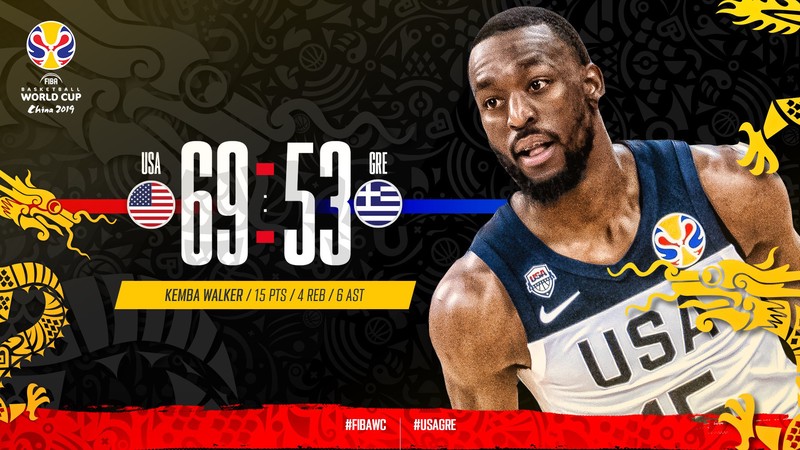 The United States won 69-53 in a match against Group K Greece in the second round of the 2019 FIBA ​​Basketball World Cup held at Shenzhen Bay Sports Center in China. The United States, which has won four consecutive wins since the group stage, has been confirmed in the quarterfinals.

At the beginning of the match, both teams faced tightly in exchange. The United States then took the lead with the first run of Brown. In the second quarter, the United States, with a three-point shot by Kemba Walker and a free throw by Harrison Barnes, made a difference. However, just before the end of the quarter, the United States finished the first quarter with 19-17.
---
In the second quarter, Marcus Smart took the lead with three free throws. Later, the United States, where Derrick White scored a goal and Chris Middleton scored a free throw, ran nine points away. In the quarter-final, Miles Turner scored in a row and the US finished 38-25.
In the early third quarter, the United States made 45-30 with three points from Walker and a dunk from Barnes. The United States then allowed Greece to pursue a three-point shot. But the United States widened the gap, Just before the end of the quarter. White's mid-range shots added took United States ahead of the third quarter with 54-37.
---
Middleton's mid-range shots and Walker's three-point shot in the fourth quarter made the US run 19 points away. In the middle of the quarter, however, the United States struck out eleven points. Mitchell scored three points and give a lead. With a minute and 43 seconds left at the end of the game, Barnes made three-point play and the US won 69-53.
---
The United States led the team to victory with Kemba Walker scoring 15 points, 6 assists and 4 rebounds. Donovan Mitchell (10 points, 5 rebounds) and Derrick White (9 points) also added strength. The Greeks freak Giannis Antetokounmpo scored 15 points and 13 rebounds but failed to stop the United State.