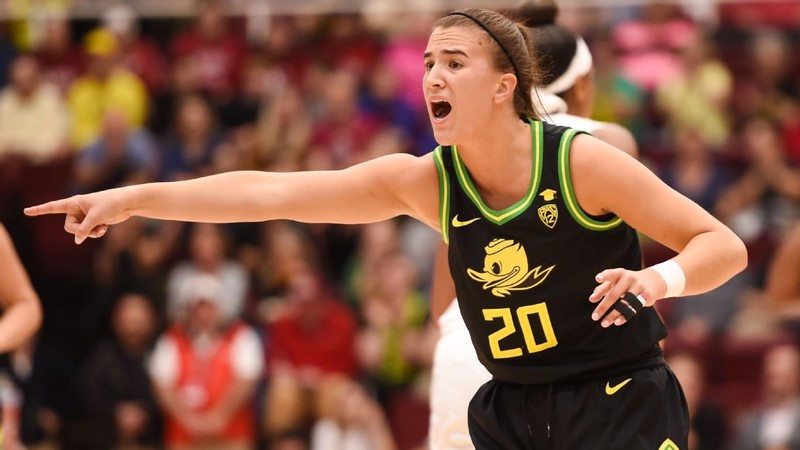 Basketball isn't just a man's sport. In numerous ways, it also screams 'the future is female'. And in that future, Sabrina Ionescu is written all over it.
Flashback to early last year, the rising star guard shocked the ball world when she turned down the WNBA draft and instead decided to go back to Oregon for her senior year. She was clearly on the run to leading the Ducks to their first ever national championship.
Standing at 5-foot-11, Ionescu is now the no. 1 pick for the 2020 WNBA draft in April. So in the heat of anticipation, here are some Sabrina Ionescu facts to warm you up.
Ionescu's elite basketball record
Without a doubt, Ionescu is the queen of basketball stats. As we speak, Sabrina Ionescu is the only living player in the history of college basketball to rack up a total of 2,000 points, 1,000 rebounds, and 1,000 assists - a record she set after eulogizing her mentor Kobe Bryant and her mentee, Gianna Bryant.
The triple-double machine
Ionescu is a dynamo at triple-doubles. For starts, her first ever triple-double shot in 2016 was Oregon's first since 1988. And she didn't stop there. Ionescu now holds the NCAA record for men and women with 26 career triple-doubles.
She's excellent at free throws
Free throws may be an acquired skill for some players, but Ionescu seems like a natural. Throughout her career, she's settled at 85 percent from the line, which is already impressive. But she even kicked that up a notch this year, bringing it up to 92.3 percent this season.
She's a multi-awarded player
With her skills and stats, you'd best believe that Ionescu is a well-decorated player even before she enters professional basketball. Back in 2017, she was named USBWA National Freshman of the Year Award. Last year, she won the John R. Wooden Award and the Wade Trophy. And not to forget, she earned McDonald's All-America Game MVP honors after a 25-point, 10-rebound performance.
And now, the WNBA...
This coming April, all eyes will be on the New York Liberty as Sabrina Ionescu heads to the Big Apple for the WNBA drafting. This will be a huge pivotal moment for her career, and a real game-changer for the WNBA as a whole.