Spain lost in Kiev their unbeaten status in the FIBA ​​windows. In the seventh game of qualifying for the 2019 World Cup in China, the first of the second phase, Scariolo's team came up against a solid Ukraine that, led by Mykhailiuk (22 points), penalized the thicket of the national team. It was not enough with another good game of Quino Colom. The statistics revealed the Spanish inferiority: 41-34 in the rebounds, 23-10 in the assists and 50% compared to 36% in the field.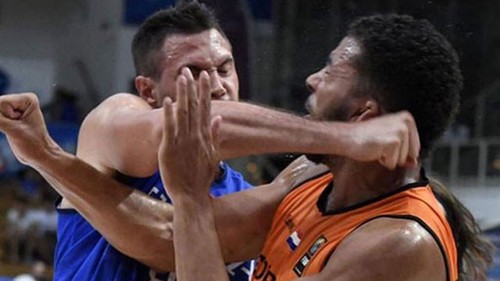 He opted for Scariolo to continue the process of classification by putting together a quintet without Euroleague players and with all the references of the Spain of the windows-except Fran Vazquez, last minute down due to back problems. But the shooting accumulated by Colom, Jaime Fernandez, Pauli, Sebas Saiz and Aguilar ran from the beginning with the sturdy Ukraine of Mykhailiuk. Two triples of the Lakers' guard (47 of last draft ) announced a convoluted game for the Spanish team that, confused on the perimeter and mismatched in the paint, entered a quagmire that did not find escape.
With a triple, an assist and six losses in statistics, Spain closed the first quarter to the divan and continued to suffer in the resumption. A mate of Alex Len, the other Ukrainian NBA (Atlanta Hawks) placed the maximum local income (29-16, 14). But, by pressing keys, Scariolo found the reaction. The intensity of Oriola under the rings and the pulse of Aguilar from 6.75 allowed Spain to tackle the rival break and rearm after the storm. The points of the pivots and the reliability of Colom cemented a partial 3-15 in just four minutes and balanced the biorhythms at the Sport Palace in Kiev (32-31, 18). But it was not Spain's day.
Upon returning from the dressing room, Ukraine reissued its best version with the agitation of Jeter and the Intendancy of Mykhailiuk. Paulí was aggravated to alleviate the gusty attack of Spain with an exhibition of hyperactivity that, however, did not prevent the locals regaining control in the scoreboard before the final straight (56-51, 30).
Inferior in painting, inconstant in defense and erratic in shooting, Spain was doomed to suffering. Without antidote for Mykhailiuk back, Scariolo tried to gather Colom and Sergio Rodríguez on the track in search of fluency on the opposite track. But the points did not arrive and the hurries, that definitively stripped the Spanish basket. Kravtsov took advantage of the bicoca to close the Ukrainian victory. On Monday, in Madrid, Spain receives Latvia. There is still a way to go to reach China.