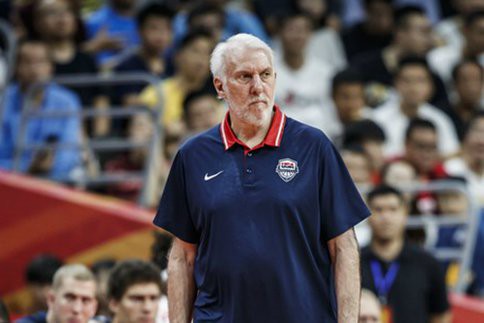 Despite the historic loss of the United States (79-89) Wednesday in the quarter-finals of the World Cup, Gregg Popovich remained fair and praised the performance of the Blues.

Doubts were therefore founded. The avalanche of packages that hit Team USA before this World Cup has indeed weakened the best team in the world. This campaign, which ended with the Blues in the quarterfinals (89-79) Wednesday in Dongguan, will it serve as a lesson to Americans? Hard to say, but Gregg Popovich would probably have liked not to become the first coach of the United States to experience the defeat in official competition since 2006.

If the excuse was all found, the coach of San Antonio Spurs did not use it to analyze this quack. Fair-play, "Pop" especially wanted to salute the performance of the French and his counterpart tricolor. "Vincent Collet and his staff have done an incredible job," he said in a press conference, "it's the best team in France I've seen in my life." A compliment that will affect the coach of the Blues, who did not have much time to prepare this meeting.
"They played well on both sides of the pitch," he said, "it's not just an offensive team that runs its systems well, it's not just one or two individualities. defense, they are athletic and they all defended, individually and collectively, they switch (on the screens), they manage well the weak side, the rebound.They played together and have depth of bench. they did an amazing job, they were fabulous. "