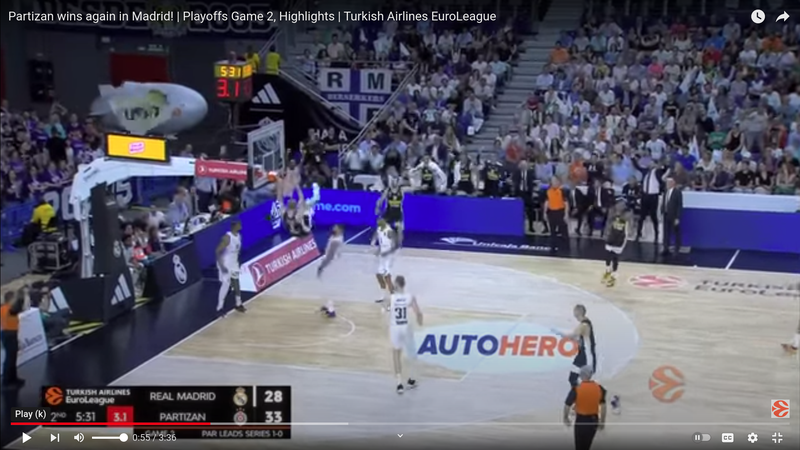 Partizan Belgrade won against Real Madrid away second time in 2 days. This time result was 80:95 when Madrid disgraceful player Sergio Llull punched with fist in chest Partizan player Kevin Punter who showed him his fist and fight between all players started. During that fight Partizan best player Dante Exum got injured and exited on crutches. Some players of Real Madrid showed they are ready for prison time and they did this deliberately because they are human nits how can't stand defeat. Serbian club toyed with them most of the game. Result was 80:95 (21:31, 16:20, 25:24, 18:20) when it was stopped because of fighting initiated by Llull who punched Punter with fist in abdomen.
I hope they will receive same welcome in Belgrade like they deserve and get well good beaten in similar way in Belgrade. Particularly old geezer Llull. Bad thing about this is fine which will come by some pro Barcelona disciplinary body, so if we go to final four we will probably play without half squad in semi final against Barcelona.
Kevin Punter was not to clever in this incident too. He should wait for non sport faul to Llull, but when someone deliberately hit you with fist in body you will hardly remain calm. Partizan lead 0:2 in wins and need one more win to go to final four. Hopefully we can reach that stage, but our chances there without one of the best players Exum are very low. Anyway it's big success for Serbian team. Congratulations Partizan and Zeljko Obradovic!