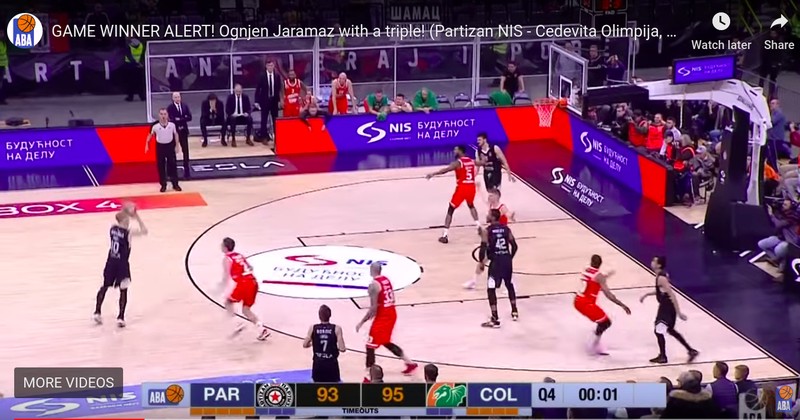 Dream of every little kid when he starts to play basketball is to score winner in last second and that should be 3 pointer if possible. That dream came true for some some of ex Partizan players like Aleksandar Saša Djordjevic, Predrag Drobnjak, Dušan Kecman. Last night it come true for Partizan player Ognjen Jaramaz. Partizan won Slovenian side Cedevita Olimpija 96:95 with his three pointer 0.2 seconds before end of game. Long distance shot, I would call it bomb fired up from more than 7 m hit panel and deflected straight into net. I don't need to write what kind of delirium exploded in hall after. This win makes Partizan Belgrade currently first on ABA league table.
Game came just few days after hard match against Virtus Bologna and few days before next hard Eurocup away game against Trento. Partizan lead most of the time, but thanks to incomprehensible fall in last quarter put itself in situation to lose this match. 17 seconds before the end, Ryan Boatright scored for Cedevita for 93:95. Partizan coach Trinkieri called for time out. Away side from Slovenia made few fouls after, but then hero of the night Oggy escaped from them and fired up his 3 pointer.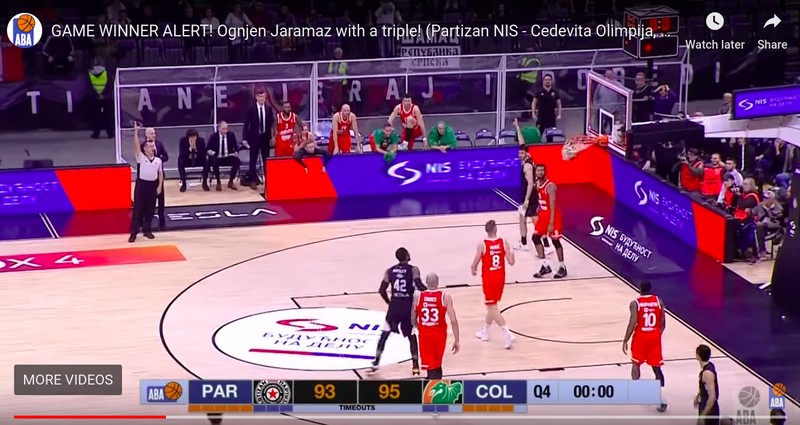 Result in each quarter was 23:25, 32:22, 26:22,15:26. Man of the match for Partizan was of course Ognjen Jaramaz (who else?) who scored 16 points with 4 rebounds following by Rade Zagorac with 14 points (6 rebounds), Rashawn Thomas 12 (5), Marcus Paige 11 (3), NIkola Janovic 10 (5), Corey Walden 10 (1) and Nemanja Gordic 9.
In very resilient away side the best were Jaka Blažič with 22 points and 11 rebounds, MIkael Hopkins 13(8), Codi Miller McIntyre 11(3), Edo Muric 11(2), Filip Krušlin 11(3) and Ryan Boatright 10(1).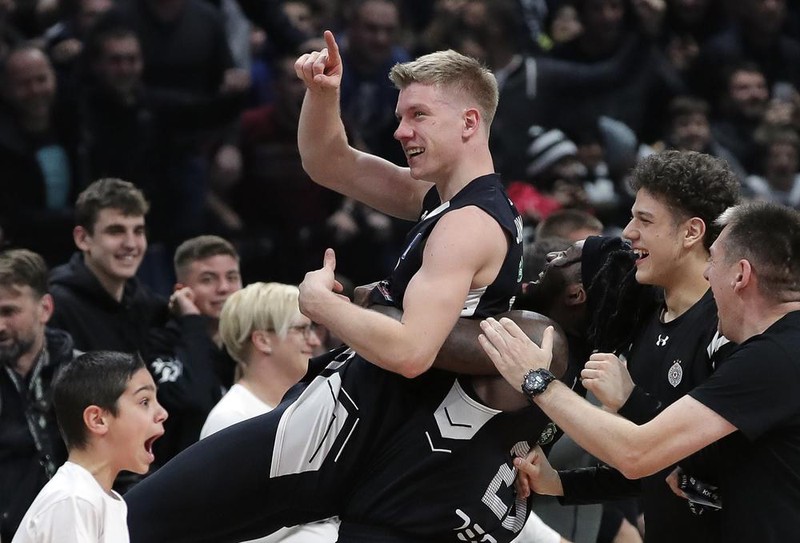 Ognjen Jaramaz is 24 years old player born in Serbia who played for Mega and Burgos before he joined Partizan squad in 2019. I noticed his very good play against Bologna few days ago. He's very good on both sides in attack and in defense and in catching ball from deflection. Partizan coach Trinkieri said if anyone deserved to score that basket it is Oggy because of his hard work. Trinkieri also said there is no much time for celebration because next game against Trento is in just few days. He added that he already has shortlist of wines he must by in his home country - Italy. On question was he afraid will shoot will end in basket he answered "I am afraid of player injury or for my kids, fact will ball come into basket or not does not scare me at all." pointed out that basketball is just sport not matter of life and death like most people here experience sport events.
All credit should not go just to players and coach, but also to new member of coaching stuff conditional coach professor Koprivica. Consequence of his work is great fitness of this team whose players run a lot entire game in almost same rhythm grinding opposition. This game promise us very interesting and uncertain ABA league play off this season where at least 4 clubs can win competition. Partizan, Red Star, Buducnost, Cedevita Olimpia all of them can climb to the highest throne at the end.
You can watch Jaramaz's this great 3 pointer here:
Slovenian tv reporter did not handle this ending 3 pointer well and said just "Incredible, incredible good night!" (and stop talking). :) LoL