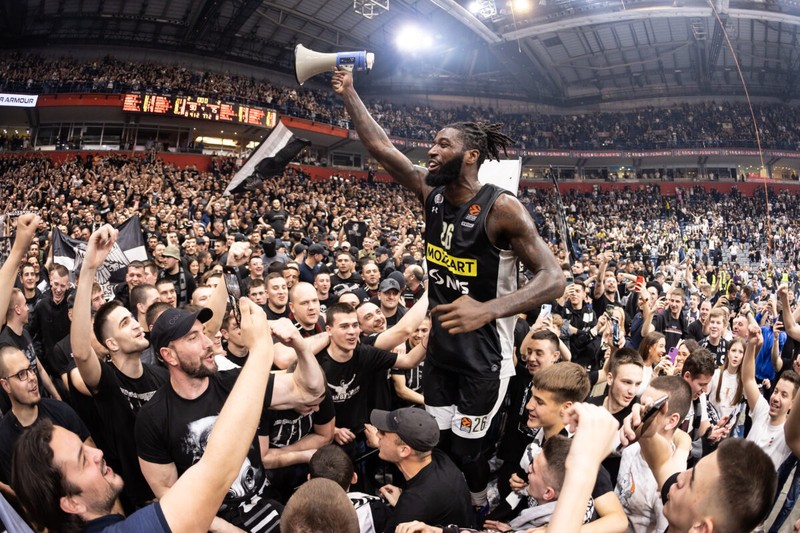 Partizan Belgrade won Olympiacos Pireus with 90:75 (27:22, 21:12, 12:18, 30:23) in front of more than 20,000 spectators in Belgrade Stark Arena. Thanks to postponed match in ABA league against Buducnost Podgorica "Black and white" had 4 days to prepare this game. When the best basketball coach in Europe Zeljko Obradovic has 4 days to prepare match opponents don't have much chance if you know what I mean.
We saw interesting game with Partizan like better side most of it. Matthias Lessort, Dante Exum, James Nunnally and others were very good. Last two made two powerful slam dunks which sent crowd into trance in 4th quarter. Away side didn't hit 3 pointer in entire first half. They fell under influence of atmosphere I'd say. They had short period of good playing in 3rd quarter, took lead of few points, but Partizan returned them soon to -10. Celebrations after end didn't miss with Matthias Lessort taking equipment like he is leader of fans. :)
With this win Partizan strengthened 7th place and possibility to enter into play off of Euro League. Here is how table is looking now: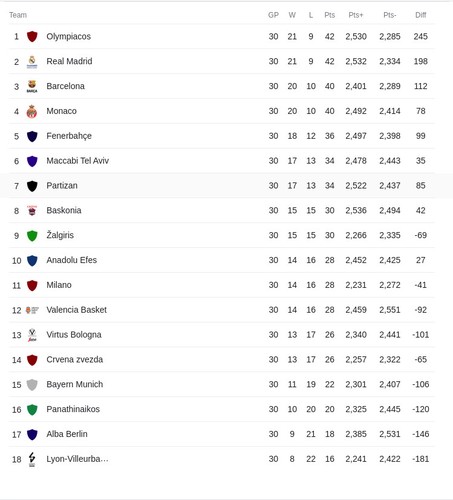 Chances are real with four games until the end and two wins more than 9th.
Coach Zeljko Obradovic was very happy after the game. He said he'll remember this win while he is alive. He had point when he said diversity in attack and being team are the most important things in this sport. His players were real team yesterday. Fans were amazing and every basket was celebrated almost like goals in football.
You can watch the most interesting moments here:
Ensure to watch Dante's slam dunk from hell near the end at around 1:50. Put it in Louvre! :)
Bellow is interview with Matthias Lessor - the best man in and out of the hall.