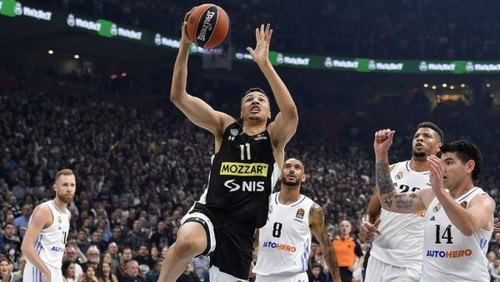 Play off for final four of Euroleague Basketball has started. Last night Partizan Belgrade faced Real Madrid in Spanish capital. Serbian "black and white" won game 89:87 (22:22, 26:22, 15:20,26:23) thanks to 3 pointer by Kevin Punter in last second of match! How does this sound to you ? Real Madrid lead 87:86, Partizan coach legendary Zeljko Obradovic, who won this competition 9 times, called for time out, wrote last attack and American black and white threw 3 pointer bomb and brought win to Belgrade team.
Nothing is over, one who make 3 wins goes to final four. It's 1:0 for us. Next game will be again in Madrid and two next in Belgrade. I hope serial will be over by then. Possible last 5th game will be in Madrid again. Partizan had some fans in Madrid too. Some fans traveled there to watch this great victory. Madrid supporters showed how big they are because nothing fell on floor after. This type of defeat surely hurt. I hope we will not face such situation in Belgrade and if we face we should be on same high level of Madrid fans and not throw things down and target away players.
After the game Zeljko Obradovic told that we should not think we did something very big by now because we are playing Real Madrid team built not only to go to final 4 but to win Euroleague. The most important thing is fact that we will play 2 games in Belgrade Arena. He pointed out what everyone should know that team is the most important and individual awards will come when time comes. We had plan for the game, but our tall players got in problems with fouls to early, we didn't defend like we wanted, conceded a lot of baskets from one on one, allow them a lot of rebounds. We won game on 3 pointers, but they had 12 possessions more and that we need to make those things right in next games. He congratulated every player and thanked to fans who came to Madrid to support Partizan not missing that atmosphere in hall was great too.
You can see pre match and match details here. Crucial shot is around 14th minute. In the clip bellow you can hear new song of group "JNA" with title "Days of victory are returning". Congratulations to Zeljko Obradovic and all players for this win and let's hope they can make it to final four!