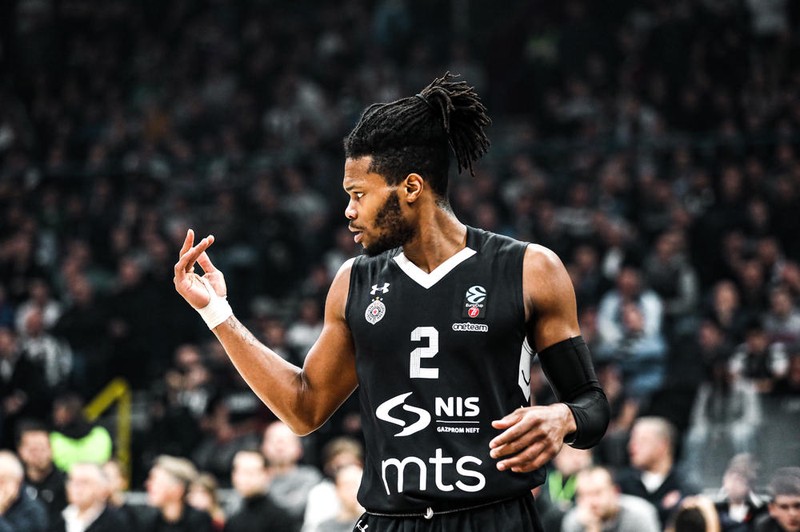 Interesting group E Eurocup game between Virtus Bologna and Partizan Belgrade ended with Partizan win 84:86 (18:13, 29:22, 21:28, 14:21). This victory means that Belgrade club is in already in Eurocup playoff. Hero of the night was American play maker Corey Walden who scored incredible 29 points last night. 188 cm player born in Ormond Beach - Florida was unsolvable enigma for home side. 28 years old was involved in this game for 26 minutes scoring 6/10 (for 2) 3/4 (for 3) and 8/10 (free throws). He also made 5 offensive and 5 defensive rebounds. American was the one who scored crucial 3 pointer near the end of the game.

"Steamroller" which has again support of 500 fans in Italy didn't start to well. Both clubs struggled to score, but it is home side which get advantage in early stage of the game. Serbian playmaker Milos Teodosic and his team mate Stefan Markovic were very good for home side. First one scored 24 while last one scored 17 points for Sasa Djordjevic's side during this game. Partizan playmaker Nemanja Gordic picked up injury, but young boy Uros Trifunovic substituted him very well. Youngster scored important baskets which prevented Italian side from taking lead greater than 13 points in first half.
Partizan players didn't surrender, continued to fight and inch by inch lowered advantage of host side. Black and white from Serbia were better side in second half and managed to bring this game into dramatic finish. At the end Rade Zagorac who didn't score to many points last night missed shot, but get rebound after and sent it to big daddy Walden who shot 3 pointer bomb. In next attack Rade stole took ball from Virtus and scored points. Milos Teodosic then missed 3 pointer, while Walden scored one free throw. He missed second deliberately wishing to spend time and forced Markovic to shot from his half and his shot didn't come in. Celebration for Partizan fans and supporters could start.
Near the end Rade Zagorac and Milos Teodosic almost fought each other, but other team mates somehow separated them. Milos is well known as Red Star fan and this defeat was uneasy for him to comprehend. Here are player stats from this game: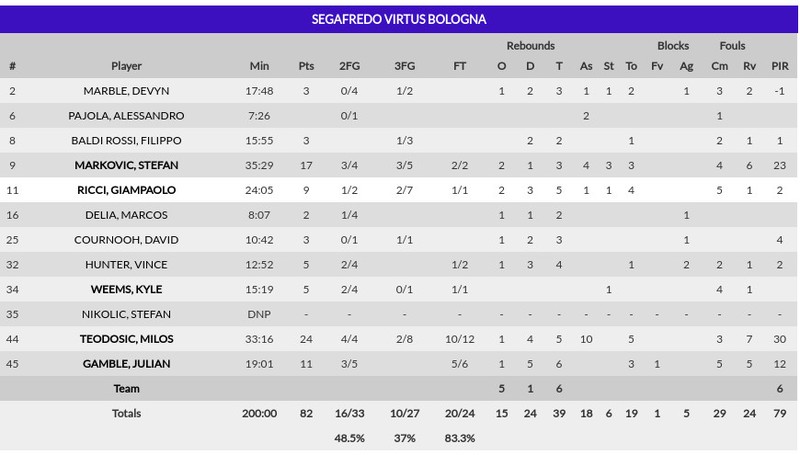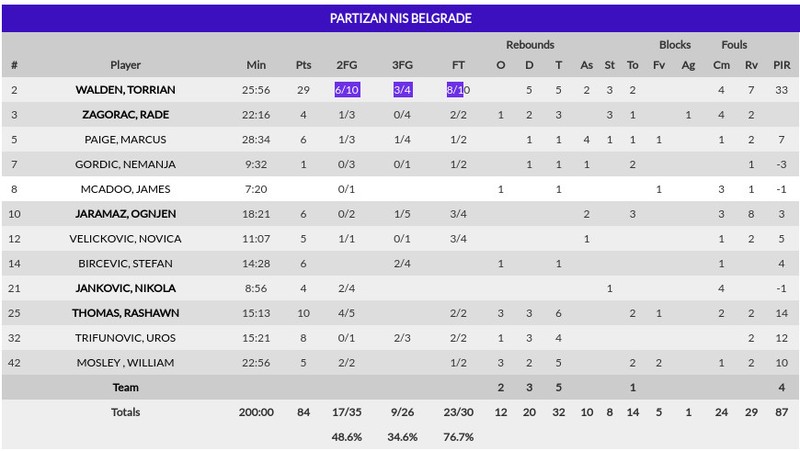 This win is meaning Partizan went to playoff stage of Eurocup from 1st position which will give Serbian side home game advantage. It's good to claim some self confidence after defeat against Red Star in ABA league and before crucial game against Buducnost from Podgorica. Bad thing is injury of Nemanja Gordic and Rade Zagorac. Winger Reggie Reading is already injured and will skip rest of the season and any new injury could be fatal blow for ambitions of this squad. I hope Gordic and Zagorac don't have bad injuries.
I need to mention another American players McAdoo and Mosley who played excellent in defense and do effective blocking or slam dunks in attacks. Supporters love both things. For the end let's mention what coach Andrea Trinkieri told to Nemanja Gordic "If you didn't pick up injury we would never win this game." :) Coach of Italian side, until this game unbeaten in home hall, Aleksandar Djordjevic said that for him "Partizan is among favorites to win Eurocup this season." It's music for Partizan fans ears, but crucial condition for this is to avoid new injuries. Derby game against Buducnost Podgorica which comes in few days will be very interesting and important for keeping high position in ABA league.