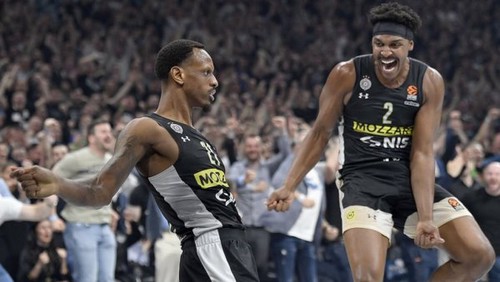 The most trophy club on European continent famous Real Madrid has fallen in Belgrade Arena In front of 20068 fans against home side Partizan Belgrade. This game will be remembered for a lot of time. Partizan had 20 points advantage near the end scored 100 points 3 minutes before the end. Final result was 104:90. 53% success for two 56% for three, few jumps more, few stolen balls more were enough for this big win. In last two games Partizan need to win one to be in final 8 and qualify for play off. Last two games are Monaco away and Panathinaikos at home. Panathinaikos at home will be spectacle. What I am saying ? Every game in Belgrade Arena when Partizan is playing is a spectacle! Look at this video clip where all hall is singing "There is nothing bigger than our love toward black and white colors".
Fantastic coach Zeljko Obradovic who has won 9 European titles prepared this game well attacked weak points of Real Madrid squad. Build up of play and ball flow were perfect. To be fair few important players didn't play for Madrid because of injuries too. Partizan also had one day more to prepare the game than Real Madrid.
Before the game veterans of two clubs played friendly exhibition match. If you don't know what is Partizan in basketball let's mention few famous names some of them members of hall of fame in USA: Dragan Kicanovic, Drazen Dalipagic, Vlade Divac, Zeljko Obradovic, Sasa Djordjevic, Predrag Danilovic, Zarko Paspalj, Ivo Nakic, Zeljko Rebraca,Nikola Pekovic, Predrag Drobnjak, Alex Maric, Bo McCalebbb, Sasa Pavlovic, Bogdan Bogdanovic and many others...
Today it's Smailagic, Matthias Lessort, James Nunnaly, Dante Exum, Kevin Punter and others. A lot of them are foreigners but they fight for shirt, badge and fans like they are all members of some ultras group to the last drop of blood. They are not bunch of selfish individuals who play only for themselves and don't want to help each other. They are superb team with great team spirit coached by the best coach on European continent. That's what fans love. They know the secret which is when team make big achievement they did the best thing for themselves.
I want to remind you on something. Half year ago there were such who were blabbering Zeljko Obradovic is to old, not good enough coach and stupidities like that after couple of bad results. Fortunately director Ostoja Mijailovic is not one of those who sack managers on first sign of trouble after couple of bad results or complaints. I would like to ask those fans where are you now when we are grinding everyone ? Are you singing "Come on Zeljko take this Euroleague" ? :)
Coach is main figure in sport. Zeljko made superb team set up excellent tactics. Flow of the ball is excellent, organisation of attacks very good. When things are like this you have open shots and if you train hard as they do you'd score most of them. Wild shots over hands are very rare.
At the end celebration didn't miss again and Matthias Lessort was like always in the center of it. One fan recently came to his car asking him to become his best man on wedding and player accepted. :) He's one of us.
Worth mentioning is class act of away player from Dubrovnik Croatia - Mario Hezonja. He was pushing with one fan near out at some point, but then ask from referee that this fan remains in hall. Class, respect, Madrid Madrid! :) Standing ovations for Hezonja on exiting.
We had also one big guest Aleksandar Petrovic from Croatia ex Cibona player and brother of Cibona biggest legendary player Drazen Petrovic who died sadly in car accident during 90ies. He pointed out how smart tactics Zeljko Obradovic is using against Real.