One of the most breathtaking experiences of my life and my most memorable match begins with winning the biggest thing I have ever won, climaxes with my country winning gold, and ends with me, my brother and my cousin almost losing our lives.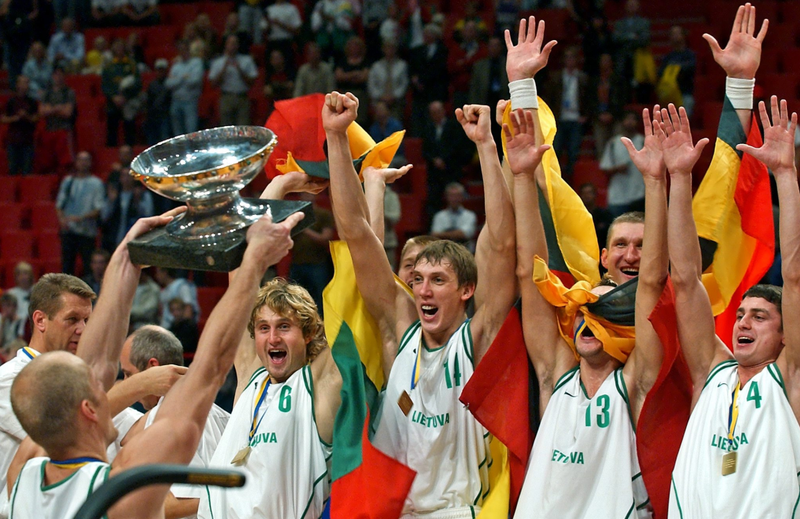 It Began with a Contest
This whole journey began one Saturday morning in 2002 when I opened one of the biggest Lithuanian newspapers "Respublika". In it, I saw a Euroleague fantasy challenge contest. I had never seen a contest like this before, so I was very intrigued and excited. Basketball was my favorite sport at the time, so I immediately went to our local library and started researching the teams and players of the Euroleague.
Fast forward 8 months later, after the most exciting basketball I had ever watched and an incredible season in the Euroleague, the tournament ended with Barcelona as champions. More importantly to me, the Euroleague fantasy challenge ended with me taking the 1st place!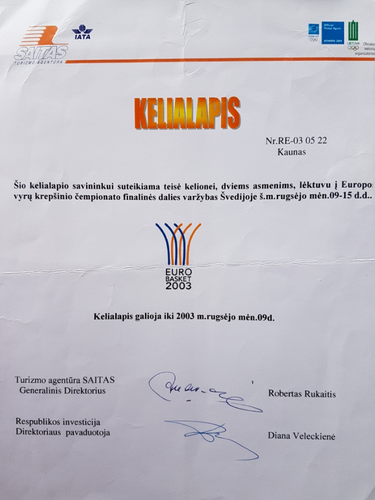 The prize for 1st place was 2 tickets to the 2003 Eurobasket playoffs with accommodations and free breakfast at a hotel.

At the time, I was in high school, living in a small village of just 250 people. My dad had passed away a few years before this and our family was very poor. I had only traveled to a few of the larger Lithuanian cities a handful of time. This was a once-in-a-lifetime opportunity for me, and I was both scared and excited beyond belief at this opportunity.
I decided to take my older brother with me to travel to the big city where people spoke a different language than we did. However, besides Lithuanian, my brother only spoke Russian, and in Sweeden, that's not much help.
The road to the Finals
During this trip, we only had about $200-250 worth of cash. And because of that, we had an adventure on the very first day of this trip.
Our hotel was quite far away from the Globe arena, where the games were played, and the cheapest way to get there was by metro train. The problem was that we could only afford the 3-day metro pass and we had 7 days to spend in Stockholm. We calculated that all the semi-final and final games were spread apart by 3 days, so we decided to save some money and walk to the Globe arena for the quarter-final games. We didn't know how far away it was, or in which direction, but either way, after breakfast in the hotel we had at least 5-6 hours before the matches began. So we thought, why not see what Stockholm has to offer, save some money, and have a great time?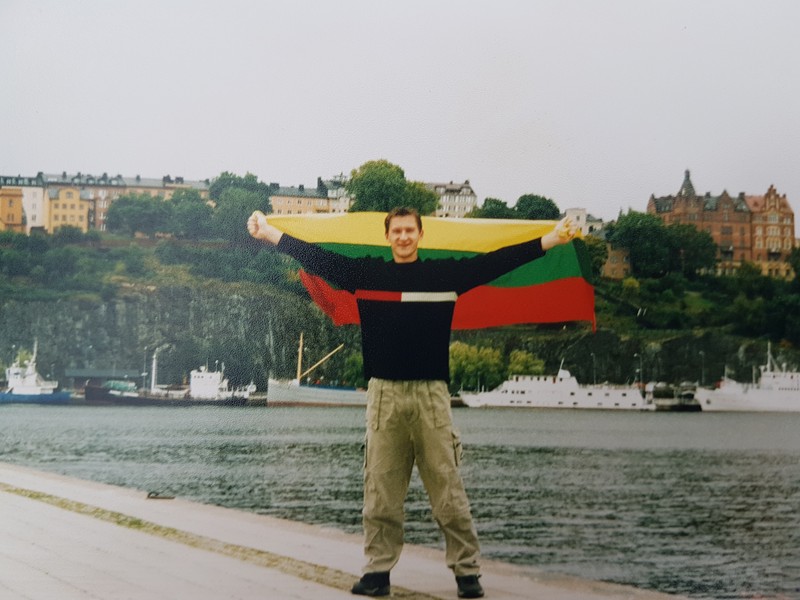 To this day, I still remember the expression of the first man, to who we showed the map and pointed to the Globe arena and asked to which direction we should go. He showed us the nearest metro stop and we were like "no no no, we'll walk". And the look on his face was like "are you mental?!?!" After a few more exchanges we asked him to show us where we were on the map that we had. And he said something like "you're not on the map!"
We thought that he did not understand our question (our English was very very bad), so we went in the direction he pointed. After about two more hours of walking, we asked several more surprised Swedish people for help, and sure enough, we realized that we really weren't on the map. But we kept going and a few hours later we finally found a street that was on our map. From that moment it was a piece of cake. When we got to the arena, we calculated that we probably walked about 20 miles that day. We sure as hell were not walking that distance back to the hotel so we decided, that we better eat a little less so we could buy that metro pass after all.
In the quarter-finals, Lithuania faced Serbia and demonstrated the best offense I have ever seen. It was surreal to be in a sea of Lithuanian fans singing songs and chanting our player's names while they were attacking.
Lithuania defeated Serbia 98:82 and advanced to the semi-finals.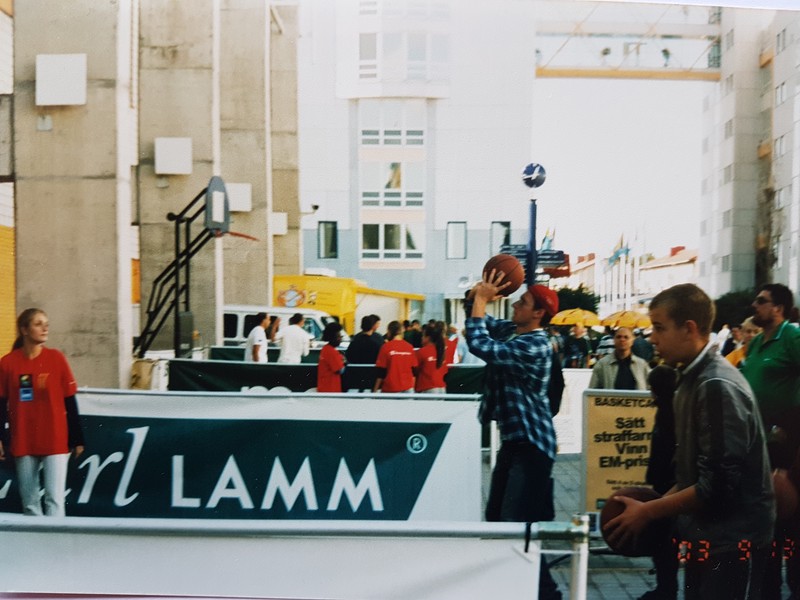 In the semi-final, Lithuania was once again up for the challenge, defeating France in a very close game 74:70. For the first time since 1995, Lithuania would advance to the finals of Eurobasket!

The most memorable match in my life
The final game between Lithuania and Spain was the craziest match I have ever seen in my life! After Lithuania won in the semi-finals, Lithuanian fans, who were in Lithuania, organized a few charter flights and came to Stockholm to join the fans who already were there. There were at least a few thousand of us by then.
In the first quarter of the game, both sides were keeping it close, demonstrating good ball movement. It was high-quality basketball and neither team was taking control of the game.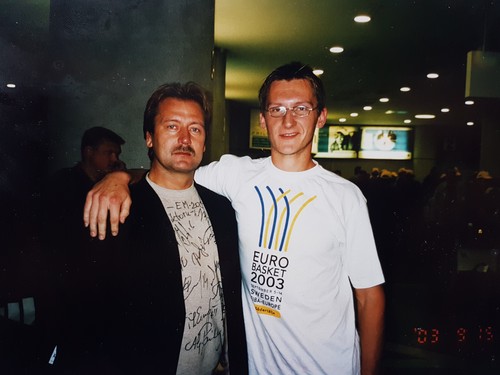 During the second quarter, my brother noticed one of the most famous politicians in Lithuania, Viktor Uspaskich (he later that year became Minister of Economy) walking in circles in the VIP zone by himself.
My brother shouted to him "Hey, man, why so sad?" He didn't hear what my brother shouted, so he came closer and started talking with him. My brother was like: "Dude, why are you walking all alone?! Come and join your people!" Viktor was intrigued by that idea and started asking how to get to our sector. And my brother and another dude who was near him just extended their hands down towards him (we were a few meters higher than Viktor was) and Viktor actually took them and when he did that he just flew up like a bird and ended up in the middle of the roaring crowd.
This funny moment distracted me from the game in which our team started to dominate. In the second quarter, Lithuania ran away from Spain and never looked back.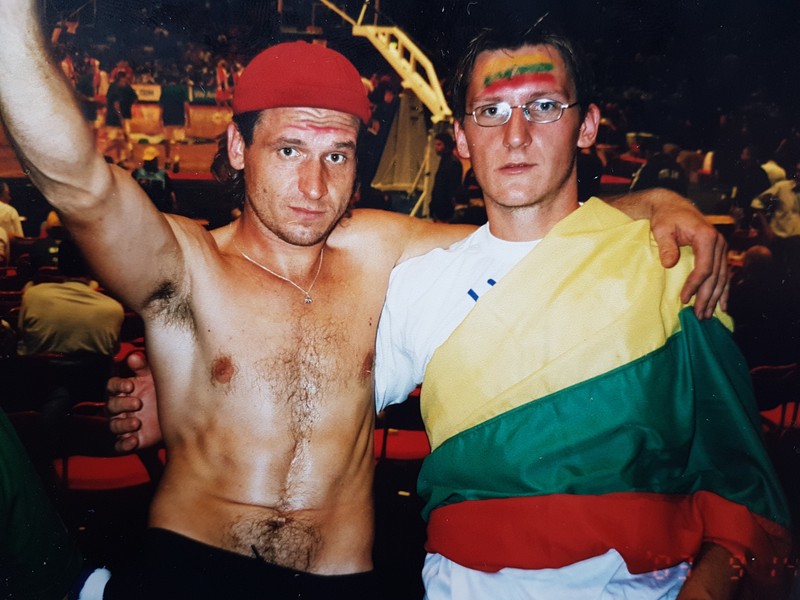 The final two quarters were examples of classic Lithuanian basketball -- great ball movement and strong defense. But Spain, or to be specific, future NBA Hall of Fame player Pau Gasol, did not want to give up. I remember him slamming ferocious dunks every few minutes on his way to scoring 36 points and grabbing 12 rebounds. But that wasn't enough for the comeback, and Lithuania won the European championship!
After the final whistle was blown, complete madness commenced in our stands. Everyone was jumping, dancing, singing songs and hugging each other.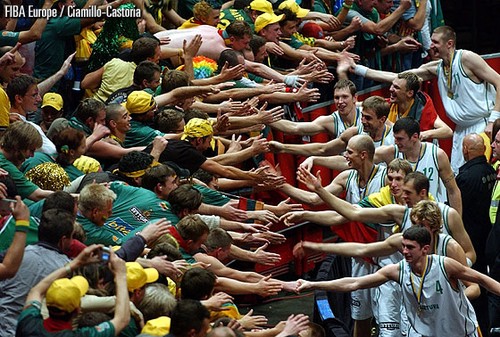 We actually managed to break the whole platform on which everyone was standing and the thing started moving up and down in synchronicity with our jumps. When that happened everyone calmed down a little bit, but then our team came to meet us and everyone rushed to the first row and the platform dipped again. I actually was afraid that it might completely collapse so I backed off a few rows back and was enjoying the view from there.

After the game
We were scheduled to fly back to Lithuania only a few hours after the game. It was amazing how happy and friendly everyone was. I saw so many Lithuanian celebrities up close at the airport. I even managed to get a photo with Lithuania's President Valdas Adamkus.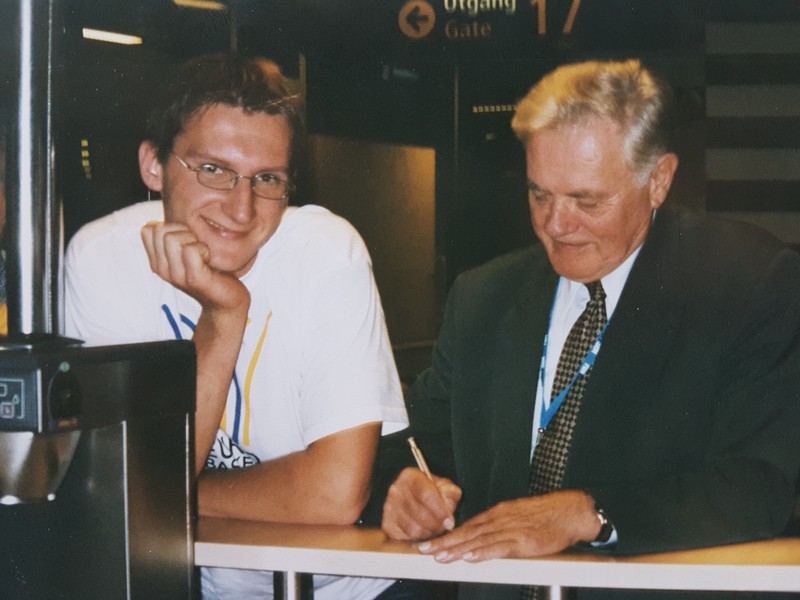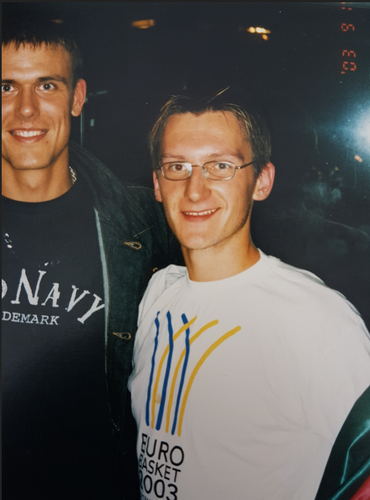 Later, my brother and I shared a bus ride to the plane with Robertas Javtokas (one of the best Lithuanian centers of all time).
The flight back to Lithuania was fun too. The whole plane was filled with fans and everyone sang, laughed and shared their memories.
To a teenager from a small village, all this was a truly mind-blowing experience.
---
The ride home
When we landed in Vilnius, our cousin picked up my brother and me from the airport. Lithuania's capital was still celebrating the victory! There were people everywhere, cars were beeping, people were waving flags and congratulating each other.
I turned my phone on and it was blowing up with text messages from my friends. I texted them back and fell asleep in the back seat of the car.
About an hour later, I felt a huge bump and the back seat where I was sleeping began to rotate. Only a few seconds later I understood what happened. We got into an accident and our car flipped over at least 5 times. We were shocked, but luckily, no one got seriously hurt.
In a strange way, I actually was happy that this happened. I was looking at the wrecked car and felt kind of proud that I survived that. The thing that bothered me the most was that my brand new Samsung C45 was shattered to pieces and I only had it's back cover in my hand.
While we were waiting for police to arrive I found the phone keypad and front cover about 15-20 meters away from the car. Later, while we were waiting for the towing truck I even found the body of the phone. The only missing piece was the battery. And I couldn't find it anywhere - not in the car, not around the car, not even on the trail on which our car had flipped over all these times. So I gave up looking for it.
When the towing truck arrived, my brother peeked for the last time in the car, looked up and saw that my phone's battery was stuck in the sunroof. He pulled it out and gave it to me.
This trip and experience remain one of the best moments of my life, even though it could have been the end of it. Thank you for allowing me to share this with you.
---
A big thanks to @mikey, who helped me edit my story.