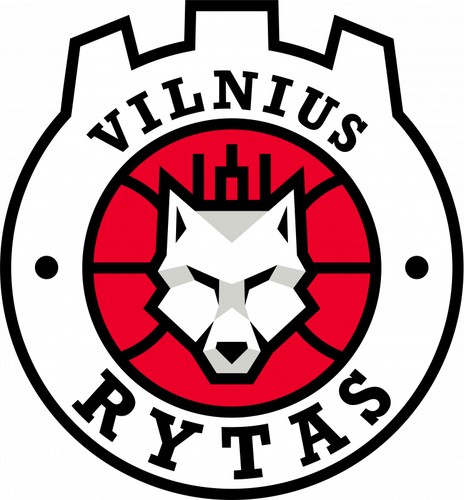 The European basketball season has started already, and I will try to focus more on Lithuanian basketball, which might not seem interesting to you at first, but believe me, there are a lot of dramas happening every year. Take the Ball family coming to play in Prienai, Lithuania last year, for instance. Anyway, today, I want to focus on Vilniaus Rytas, the local club from the capital. Naturally, it is my favorite team since I was a little kid, so I know pretty much everything about Vilniaus Rytas. And one thing is clear now - after 5 years of misery, Vilniaus Rytas is back on the right track.
Last summer, the owners of Vilniaus Rytas has changed, and a new hope was born. The club no longer belongs to infamous Gedvydas Vainauskas, who runs a local newspaper called "Lietuvos Rytas." If you don't know much about the guy, just watch this:
Anyway, it is time to forget Gedvydas Vainauskas. He is gone for good, and Vilniaus Rytas can start their journey back to the European basketball elite.
New Coach - Dainius Adomaitis
Throughout the last decade, Vilniaus Rytas has changed more than one coach per season, and that used to be one of the reasons why the club couldn't even dream about victories. I am not a fan of letting incompetent coaches lead clubs to losses, but I also believe that you cannot fire your general after one bad game. That's what Vilniaus Rytas used to do.
Last year, right before the national league finals, Vilniaus Rytas board leaked the information that the coach Rimantas Kurtinaitis would get fired no matter what result he achieves in the finals. That was very unprofessional and disgusting move, especially knowing that Kurtinaitis was Vilniaus Rytas coach during the best season in the club's history in 2009. Of course, he was quite awful last year, and he probably deserved to be sacked, but there are better ways to communicate the message. After all, you wouldn't break up with your girlfriend during the dinner with her family or a funeral of her grandmother. Anyway, Dainius Adomaitis took over the wheel of Vilniaus Rytas.
Dainius Adomaitis has not proven much as a coach yet, but he has a lot of respect in Lithuania, and many specialists think that he is one of the most talented coaches in Lithuania's history. That is the reason why Adomaitis is currently the coach of the Lithuanian National team, which is always the top contender to win medals in any international competition.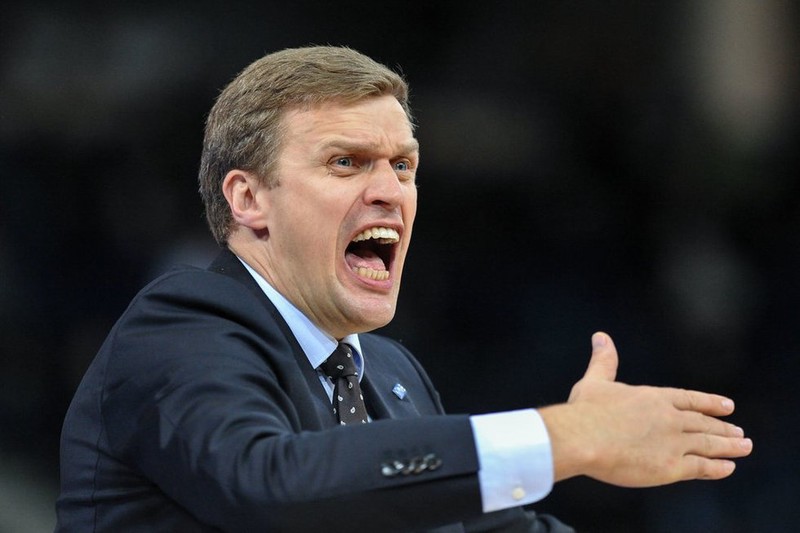 Adomaitis pays a lot of attention to the offense, and we can already see some positive results in Vilniaus Rytas game compared to the last season when the team was stagnant and couldn't find any ways to the break the defense of stronger opponents. This year, Vilniaus Rytas is always changing schemes and adapting to their opponents. We can even see Rytas playing small-ball in some situations, which is very fresh to see in Europe.
The Squad
I don't want to get into the details of some role players of the club as I understand that you won't remember or care about these Lithuanian guys, so let's focus on key players who might even get their chance at the top European club or even the NBA one day.
D.J. Seeley - Rytas bought this American with a clear intention for him to become the leader and clutch player. Seeley is without a doubt the most talented offensive player in Rytas, and he has a very reliable shot from distance. During the game with Unicaja, we could already see how Seeley scored some clutch shots (despite the fact that he was shooting blank in the first half) and helped Rytas prevail against the strongest team in their EuroCup group. Seeley is your typical American player in Europe - he is strong individually, knows how to score, but sometimes takes bad decisions and forgets to pass the ball.
Eimantas Bendžius - Bendzius is already 28 years old, but I believe that he is yet to reach his peak. 10 years ago, people expected Bendzius to become European Durant (just watch him in play and you will understand) but the lack of physical power and footwork stopped Bendzius from becoming a world-class player. That said, he kept improving throughout the years and is finally living up to the expectations. He might never play in the NBA because of his late-blooming, but I do not doubt that Bendzius will get a contract from the top European club one day. He can shoot, he can drive to the basket, and he can play as power-forward when his team is small-balling.
Dominique Sutton - Rytas bought Sutton from Trento, the runner-ups of the Italian basketball championship last year. The guy is already 31 so he is a very safe pick for a couple of seasons. Sutton cannot shoot the ball from distance, but his physical power and determination is enough to make him a great player, especially in Europe, where basketball players are less physical compared to the NBA. Sutton normally plays as forward, but we could also see him taking the center position when Rytas was small-balling against Unicaja yesterday. Even though Sutton is only 1.96 meters (6'5 ft), he has enough muscle to fight against 2+ meter guys as well. It was a while since Rytas had someone who could lift the whole arena with his dunks and blocks.
Martynas Echodas and Marek Blazevic - These two guys won't be the leaders of Rytas this season, but they are the future. I would be surprised if Echodas and Blazevic wouldn't get a chance at the NBA because they have massive potential. Echodas is 21 at the moment, while Blazevic is only 17. The only problem these guys have is their bodies - compared to the USA, basketball athletes mature much later in Lithuania, so Echodas and Blazevic are having a hard time playing against full grown-ups. That said, they have all the material to become world-class players. Will it happen one day? I hope so.