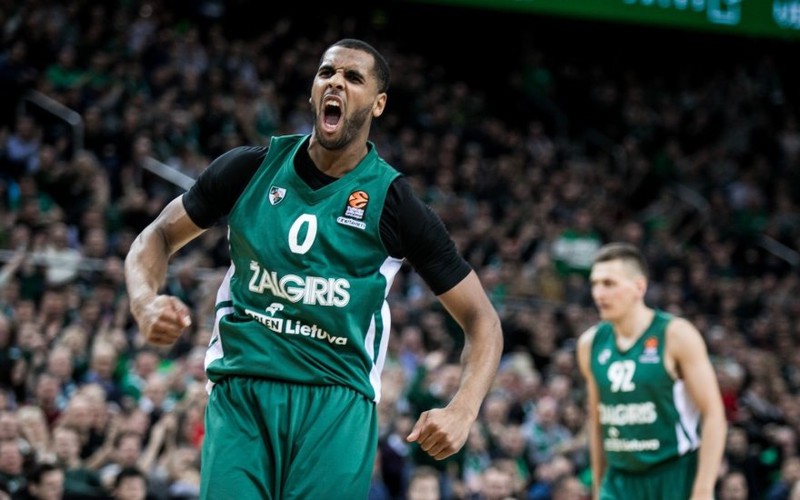 After losing 3 straight games which were decided by the final shot, Kaunas Zalgiris needed to step up if they still wanted to keep the play-offs dream alive. And they did just that. Even though they did not play perfect at times, Zalgiris still found a way to defeat one of the richest team in Europe, Olimpia Milano. It is the first home victory for Zalgiris in the Euroleague this season, and with 4 victories, the Lithuanian side will finish the 1/3rd of the season in the 9th place. As for Milano, they are still comfortably sitting in the 6th spot, but the coaching staff should make some adjustments if Milano want to keep their position.
First Half
Olimpia Milano started the game much better and got some open looks after Zalgiris' defensive mistakes. Jasikevicius commented after the game that Zalgiris conceded 17 out of 23 first-quarter points after his players forgot the game plan and made bad defensive decisions. That is a lot, especially for a team which has weaker players compared to European giants. Only big guys kept Zalgiris in the game. Both Brandon Davies and Antanas Kavaliauskas managed to find ways to destroy Milano in the paint. Even though Zalgiris managed to lose the first quarter only by 5 points, everyone understood that this game would be over before the half-time if things don't change.
And things did change in the second half. I have no idea how Sarunas Jasikevicius woke his players up, but they finally started showing good efforts, especially on the defensive end. Milano Olimpia could not find any ways to attack the basket for over 5 minutes, gifted Zalgiris 18-0 run and were trailing by 9 points after the first half. Both James and Micov, leaders of the team, started panicking and shooting bricks. It was very lovely to see. In the meantime, Zalgiris kept punishing Milano in the paint. Also, Milaknis and Wolters added some three-pointers to make things even more beautiful. In fact, there is nothing more beautiful for Kaunas Zalgiris fans than Milaknis making three-pointers. He is a fan's favorite for quite some time now.
Second Half
After the halftime, Olimpia Milano adapted to the game and started exploiting Zalgiris' defensive mistakes again. I mean, Zalgiris should not expect to win games when they let teams like Olimpia Milano score 27 points in a quarter. I know that this time Zalgiris got away with it, but miracles don't happen too often. So, Olimpia Milano kept pushing Zalgiris to the edge in the third quarter and even cut the lead to 1 at some point, but Zalgiris managed to stay on top before the final quarter. 60-58, mainly by Brandon Davies efforts who scored 27 points in the game and was the most dominant player on the court.
In Olimpia Milano, James started making his shots in the second half and finished the game with 17 points. Gudaitis, who made a big impression on me (I am happy that he is playing well because he will soon be one of the leaders of the Lithuanian national team), finished the game with 16 and 7 boards. Micov, the player who was completely shut down in the first half, found his way to tear Zalgiris defense as well. He and Mindaugas Kuzminskas, another Lithuanian in Milano, score 14 points both.
In the final quarter, Milano Olimpia kept pushing Zalgiris to the edge and cut the lead to one shot on numerous occasions but Kaunas Zalgiris did not crumble this time. Brandon Davies kept dominating, Wolters made his usual floater shots, and Ulanovas finally played a decent game and scored some important buckets when it mattered the most. The game ended 83-78 in Zalgiris favor. Even though the team still has a lot of things to improve, I can see it fighting for the spot in the playoffs and maybe even home advantage if other things line up correctly.
My Thoughts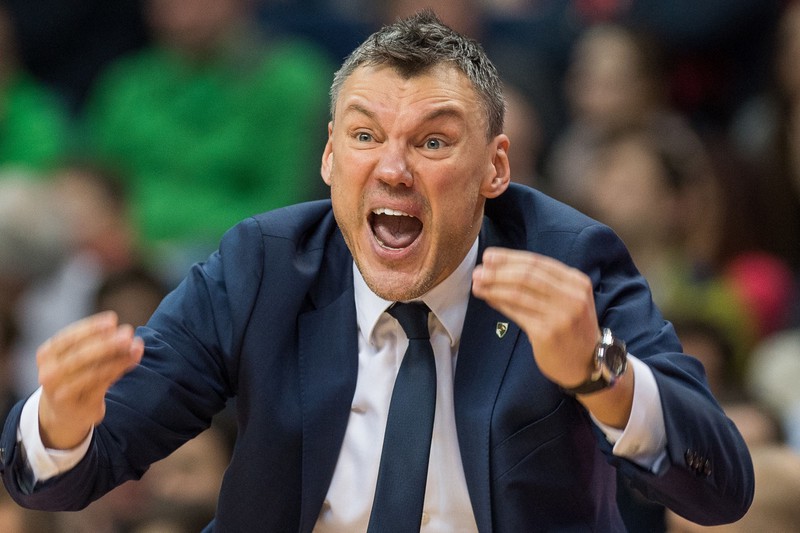 Sarunas Jasikevicius might become one of the best coaches in Europe and the whole world. He has everything that it takes and most importantly, he loves basketball more than anything else in the world. He might still be rough around the edges, especially for the NBA, where he would get fined every single game, but just give him 5 years, and you will see how great he is.
Talking about the NBA, I cannot see any reasons why both Gudaitis and Davies should not try their luck among the best players in the world. Both of them are demonstrating that they are the best centers in the Euroleague. On top of that, Gudaitis and Davies love to play of fast breaks can move really well and would adapt to the NBA without a problem. They cannot shoot 3's, but that's probably the only weakness. I am particularly interested in Gudaitis' career as he is from Lithuania and I would love to see another Lithuanian in the NBA. If you doubt Gudaitis abilities, just watch his highlight reel of blocked shots and dunks. The man can move.
Kaunas Zalgiris would not even dream about victories against the top clubs in Europe if not for Sarunas Jasikevicius. As much as I wouldn't want it to be true, most of Zalgiris' players are somewhat average compared to Real Madrid or CSKA. That is why they need to work hard and stick to the game plan every game. That's the only way to win.
The fact that the International break is happening at the same time as the Euroleague season is disturbing. Yesterday, Italy was playing against Lithuania in Italy while Kaunas Zalgiris were hosting Olimpia Milano. In the normal world, at least 3 players from Kaunas Zalgiris would make it to the national team, but they played for their club instead. As for Olimpia Milano, they let one of their players to join the national team instead of playing for the club. Oh, also, both Gudaitis and Kuzminskas would make it to the Lithuanian national team as well. So, while 5 Lithuania players were battling in the Euroleague while their national team was fighting in Italy. And the same goes to all countries. I am not sure who are the bad guys in this FIBA vs. Euroleague battle, but I would love to see it end as soon as possible.