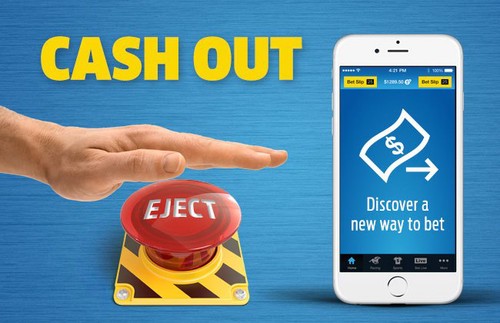 This past weekend, my two mates and I lost out on £2,581.87 or $3,402.91 for all you guys in the US, or in Scorum speak, you are looking at over 10,000 SCR! Let me fill in the dots to tell you how this happened.
Do you remember when the cash-out option first became a thing in betting a few years back? I loved the idea. Oftentimes 4 parts of a 5 team accumulator would come up for me, and I would just be waiting for the 5th one to come in that evening or the following day. With 4 in the bag, I would start trying to figure out how much I would need to bet on the opposite of my existing bet, to guarantee a return for the 4 I had already gotten right, in order to guarantee myself a return.

Then the bookmakers decided to make things easier for us, yes for us. Really, bookmakers doing something for us, without their bottom line in mind. I don't think so, and over time, I have realised it is just another way for them to gouge an extra few percent out of us or kill our chance of that big pay out.
So after initially loving the idea, I have grown skeptical, and as a result, I rarely ever cash out these days, opting instead to stick to my guns and initial hunch.
Ok, but you mentioned losing £2580? So what happened there?
You're quite right, I did. So, just to give you a little bit of background. Every Saturday, I do a €5 accumulator bet on the football. I used to do 8, 9, 10 results, sometimes more when I was younger, dreaming of that huge payout. Over time though, I learned that it is just too hard, and is almost the equivalent of winning the lotto, which is, an actual fact a tax on people who are bad at maths and probability to be exact.
A tax on people who are bad at maths...
Allow me a quick aside on the lotto at this point, if you will. I'm an engineer by trade, and when I was in 2nd year in University we had a subject Statistics, which was a lot of fun, and the lecturer used to give us different fun scenarios relating to statistics, one of which related to the lotto at that time in Ireland (2001)
He explained that if you were to line up cigarettes from Cork to Galway (a 4 hour drive at the time), write your name on one of the cigarettes, and then place it randomly along the road between the two cities. Then start a journey between the two cities and stop once at any point along the four hour journey, and reach out of the drivers door and pick up a cigarette. The chance of you picking up the cigarette with your name on it is the same as that of you winning the lotto.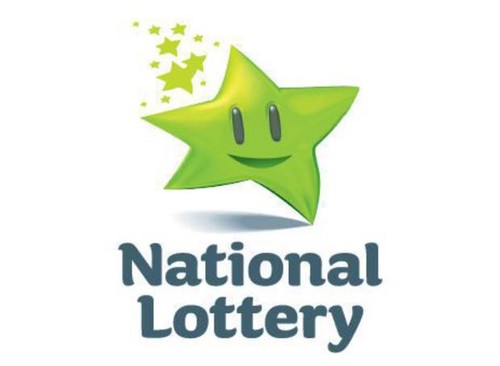 Yep, definitely a tax on people who are bad at maths! I haven't played the lotto much since those days, and it has actually become much harder since then, as they keep adding balls and decreasing our chances.

Moving along from that little aside
So, I decided not to bother with 8, 9 and 10 results in my weekly €5 bet, and since then, I do 5 results only for these Saturday. I have had some joy over the years, and I am certainly up a few quid. Then, a few years back, my brother-in-law and I decided to both follow the 5 -team accumulator method, and share any winnings equally. We had a few wins, and it's been fun exchanging our picks before kick off on Saturdays. Then last year, we brought one more friend into the fold, and so every Saturday morning we send on our picks to each other in our football Whatsapp group.
This weekend, we all did fairly well, my brother in law and I had 3 out of 5 winners and our other mate had 3 out of 3, with 2 more matches to follow that evening.
We needed Norwich to win away at QPR and needed Spurs to beat Brighton and both teams to score.
Cash out offer of £154.48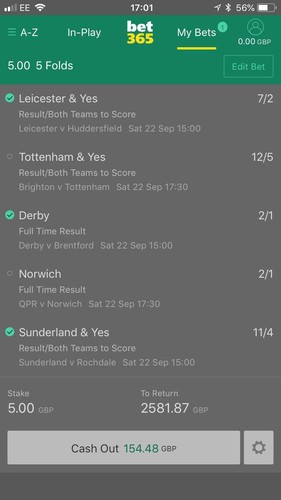 Towards the end of the 3pm matches, the cashout offer was up near £200, and then this dropped to £154.48 - we were being kept up to date on Whatsapp all the way along.
Kane scored a penalty for Spurs in the first half to get us off the mark. We were up and running now.
When Norwich took the lead early in the 2nd half, things were starting to look promising, but still the bookie only offered a £300 cash out, or just over 10% of our potential winnings. Our friend decided to stick with the bet, happy days so far.
We would need at least two more goals in the Spurs match, and in the 76th minute, we got one - Spurs went 2 ahead through the foot of Éric Lamela.
Now, we needed Brighton to score, and they only had 14 minutes, plus injury time to do so and also we needed Norwich to hold onto their lead, which was only 1-0 and they were the away team.
tick, tick, tick went the clock, Norwich maintained their 1-0 lead and the Spurs match remained at 2-0, and our bet was starting to look less and less likely, and the cash out offer was dwindling by the second. Then, my mate did the unthinkable, he pressed the big red button and cashed out.

Brighton were not looking like scoring and he secured €136.41 cashout for us - that will pay for a few beers and a round of golf, better than nothing eh..
WE ALL KNOW WHAT HAPPENS NEXT
Harry Kane has a great chance to put Spurs 3-0 up, and was denied by the keeper in the 92nd minute. Brighton get hold of the ball, they break down the pitch, and in the 93rd minute, Anthony Knockaert buries his shot to make it:
Brighton 1 - Spurs 2
Norwich also held on to win 1-0, so all 5 results came in and we would have €2581.41 to split 3 ways.
Except that we wouldn't, thanks to that stupid cash out option, which is dangled on front of you throughout. In the end it proved too much for my mate, and he is absolutely sickened. How's that for a Moanday moan... I could have brought the family on holiday or bought a brand new set of golf irons. Instead, I'll have just about enough to go for lunch..
This guy could have been my hero, now instead it hurts to even look at Mr Anthony Knockaert, the Brighton player who broke our heart, when rightfully, he should have been making our day!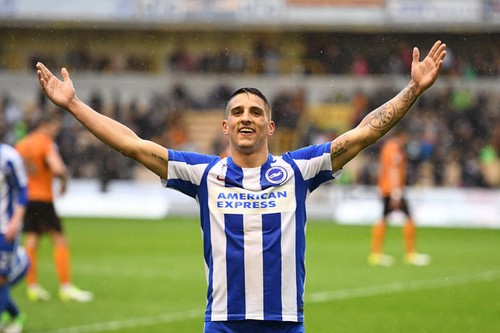 That's just how the cookie crumbles I guess, but one thing is for sure, none of us will ever cash out again. Our lesson has been firmly learned!
Your turn to have a go
This has been my entry into the second week of @pete's 'Happy Moanday' competition. I was the lucky winner last week and was delighted to get 10SCR transferred over to me today.
I would encourage anyone reading this to have a go at this weeks contest. The prize has been doubled to 20SCR, and the generous @pete has promised a 100% upvote for all valid entrants and it is great fun too. Just head along to this post to see what you've got to do https://scorum.com/en-us/other/@pete/happy-moanday-september-24th
A parting word
I wish my mate had read this old Chinese proverb before placing his bet, and at least then he would have pre determined his quiting time, and I'd be looking at my shiny new Titliest irons...
If you must play,
decide upon three things at the start:
the rules of the game,
the stakes,
and the quitting time.
Thanks as always for taking the time to read. I really appreciate your time and support.
Peace Out