On August 9th, Betman fell for the Scandinavian Scammers called Hacken. Although, he has to extend some congrats to the plonkers – it is not easy to lose a home game against the weakest team in all of the Allsvenskan…
This is going to be Betman's August stain all over the Scorum Loyalty program for betting bloggers for July… If it sounds absurdly, it is only because it is. We are still waiting for the Scorum Loyalty program for betting bloggers for August. And we'll probably get it in September!
Back to the bad memories and the consequences of a mistake…
A financial consequences are most obvious. Betman did well in July, but in August he is mostly giving back July's winnings. What's worse, the most annoying losers are back knocking on Betman's budoir door…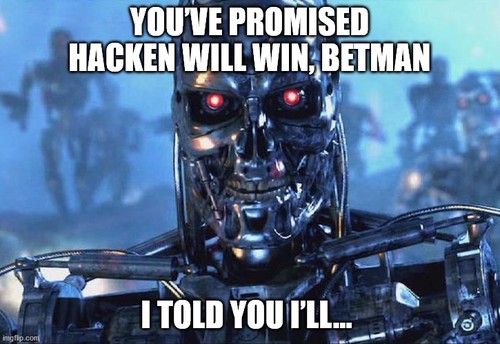 Yes, I know you said you'll be back for more tips, Arti. What's wrong, bookies have skinned you completely? Why didn't you listen to Betman? Someone stole your audio sensors? There is an explicit paragraph in that post:
"If you are too scared to invest a kidney or both into this game, you can escape eventual loss with a bit lower odds at BetScorum and much less financial pain with only two cents worth SCR coins…"
Why did you miss it? Got greedy for more money? You could go acting in some movie. Oh, you did but they pluck your eye there? OK, now I understand your urge for revenge. Betman has one also. And he also has to make a revenge comeback. We have a game that could be used for it…
It's a CL match tonight between a foreign legion called Paris Saint-Germain, and their hosts somewhere in Italy. PSG has been resting the key players and that disbalanced guy from Brazil… what was his name?
And I have to say, they are determined to make a result to remember. No, I'm serious. They also have German slave driv… I mean coach, like Liverpool. You have to have one for the top ambitions these Corona days. They have secure the French title 11 round ahead! Then, you just look at the very sensible (actually too sensible for Betman's taste) analysis of the match done by our @idunique, under the title PSG Set To Take On Atlanta! and you will see a challenge Betman couldn't resist. Yes, it is reasonable to expect a win of Paris Saint-Germain, which means Betman will choose Atalanta. Sorry, can't help it.
OK, Paris Saint-Germain has a problem conceding, and have a problem because they cannot kick a ball without it finishing into the net. It's a problem for a psychiatrist. But Italians are full of defensive tricks. And hey… they are Italians. They do know a bit of football and a bit of mafia business. We can't write them off so easily. Besides, they are playing at their home… empty stadium. If it's of any importance. Still, with the odds of almost 2.00 at Pinnacle, Betman is ready to risk:

As usual, if you don't wish to end up skinned like Arti Ficial, keep the things in the house and bet with Betman over here at BetScorum where you can lose only your vanity.
Don't make any dangerous moves, because Betman goes to sleep until the games start, and will not be able to help you if you mess something with your bet.
You have eight more hours to evade bad idea!
Betman's corner at Publish0x