OK, the last time Betman missed a chance to earn of his own rule, but since Betman wouldn't want to be caught dead in obeying the rules (not even his own), that actually didn't went so bad. Now, THIS can go really bad!
By the rule of faith compensation after an extremely unexpected loss, even the most ridiculous next bet should win without hesitation…

UPS! You are right, beautiful blond babe, Betman will have to reformulate. Now we are betting rejecting all the rules! We are going to make a brave assumption that Romanian football is not so much weaker from the Scottish, so that Celtic can do whatever they wish in their own home. So, Betman will splash everything available at the Cluj victory this evening at a value odds of 3.472…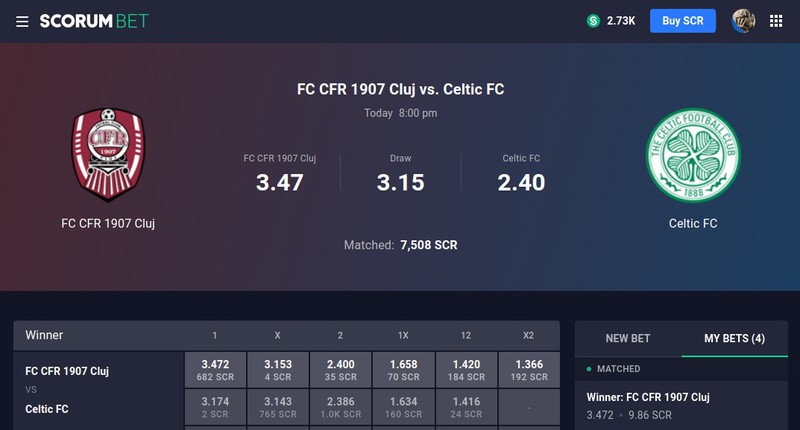 But since Betman has a certain responsibility towards the betting addicts who are ready to donate kidney so they could invest at BetScorum, he will suggest a little bit less radical option:
Now, Betman knows there won't be much fan support for Cluj, because almost all Romanians have escaped to EU. But still… those who stayed have made this football club, and they are certainly highly motivated to sell themselves to the rich EU clubs as slaves, and play happilly ever after… until the first serious injury. So, they must be ready for a heroic resistance to the Scots on that pitch tonight.
.
If they do not succeed, they will have to join Scorum & BetScorum, and try to secure their daily bread through blogging and promoting platforms with promo.scr, while waiting desperately to see SCR price, to the dizzying heights of… $0.015? It is actually their choice — they will leave either heart or wallet at the pitch!
Go, Clujies!