Yes, that was so convincing that Betman expects more cancellations of BetScorum Fights, even from some well known faces…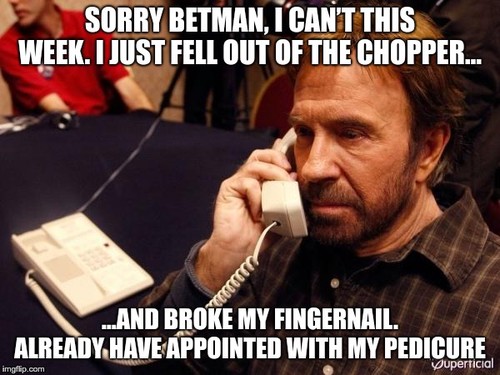 Ha! I could expect who will be the first in line with the excuse! Alright Chuck, I didn't expect you will be tough as @btb, but you could at least think of something better. For example, look at BetScorum developing team and their excuses… Oh, there are no any… sorry, skip that and have a good time with your pedicure.
. . .
Let us turn to Saturday games, where Betman put the first game in the format acceptable for the Scorum Loyalty Program for EPL Tipsters. It was the match between Southampton FC and Manchester United, which Betman lost, but the Loyalty Program allegedly provides 25% upvote even for the miss. Betman still waits his upvote… or at least better excuse than Chuck had…
@btb: Draw @3.370 (+237) — Betman: No Draw @1.5 (-100)
@btb: Watford +0 @2.100 (push) — Betman: Newcastle -0 @1.909 (push)
Chelsea losers are using every slight chance to destroy Betman. They've missed it this time…
@btb: Chelsea -1.5 @2.240 (-100) — Betman: Sheffield United +1.5 @1.806 (+80,6)
And now Betman takes the initiative…
@btb: Over 3.5 @2.240 (-100) — Betman: Under 3.5 @1.806 (+80,6)
@btb: Under 2.5 @2.320 (-100) — Betman: Over 2.5 @1.758 (+75,8)
16:00 CET: Manchester City 4-0 Brighton
@btb: Over 3.5 @1.800 (+80) — Betman: No Brighton no bet
OK, Aston Villa is not such a scarecrow to instill more fear into Crystal Palace than ManU could last week. Those odds are OK…
@btb: Aston Villa +0 @2.460 (-100) — Betman: Crystal Palace -0 @1.685 (+68,5)
@btb: Burnley +1 @2.710 (-100) — Betman: Liverpool -1 @1.585 (+58,5)
. . .
At half-time between Saturday and Sunday, @btb still had a glimmer of hope, but then… completely unexpectedly, to the shock of all Scorum members… Everton starts playing football!
Sunday, Sep 1st
Everton finally found the instruction manual! They've learned that score IS the goal!
@btb: Wolves +0 @2.650 (-100) — Betman: Everton -0 @1.606 (+60,6)
The Tottenham poultry nearly plucked out Arse Nal in a game where they lost 0-2 advantage. But they did a favor to Betman, and they will receive a praise… as soon as they deserve it.
@btb: Under 3 @1.990 (-100) — Betman: Over 2.5 @1.63 (+63)
. . .
So, final result for this week would be 7-1 (2 with Brighton) in winning tips (one push), and +387,6 SCR for Betman against -463 SCR for @btb (or -383 with his Brighton tip). Luckily, he is such a tough guy, he can stand the blow, and retun it next week. Right, @btb?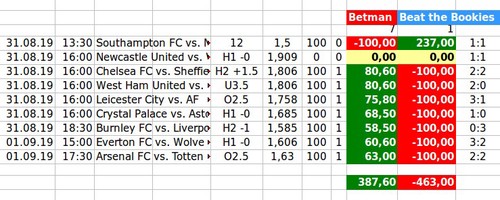 You can compare and crosscheck the results, with the accounting @btb has made at his blog. Let's return now to the real important stuff — money. Well, almost money, because SCR needs just one thing to be the money: It lacks value. It could get some value if we raise the demand for SCR. For example, you are actually doing a demand when you are active in promotion of BetScorum through the promo.scr initiative. They are giving upvotes for promotion at the different platforms, and as much people are involved, demand is higher, and then price goes up. To almost one cent! Then, you can, for another example, use Scorum Loyalty Program for EPL Tipsters and earn 25% for the tip lost, or 50% for the tip won, and then demand your upvote. Betman had one lost bet here worth 25%, then made 7 out of 8 here and got… just a minute while I count it… oh, NOTHING!
Hey, Scorum Team, where is your excuse?!